Caesars in Temporary 'Debtor Heaven' With Involuntary Bankruptcy
Steven Church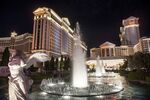 Unhappy creditors of Caesars Entertainment Corp., seeking to put the brakes on its planned reorganization, may have temporarily given the company more freedom to operate by pushing its main unit into an involuntary bankruptcy.
Because the Chapter 11 petition filed today in Delaware wasn't voluntary, the casino company doesn't face immediate restrictions on selling or transferring assets, as it might otherwise under the U.S. Bankruptcy Code. Nor does Caesars need a bankruptcy judge's permission to make other major decisions, said Bruce Grohsgal, a visiting professor of bankruptcy law at Widener University School of Law in Wilmington, Delaware.
At the same time, Caesars still gets the benefit of bankruptcy law's "automatic stay," which halts any pending litigation against the company unless the bankruptcy judge allows it to proceed.
In other words, Caesars enjoys many of the benefits and none of the drawbacks of a voluntary bankruptcy, at least initially.
"In one sense, it's debtor heaven," said Grohsgal, who retired last year from Pachulski Stang Ziehl & Jones LLP, where he represented creditors and bankrupt companies.
The creditors that filed the involuntary bankruptcy, Appaloosa Investment LP and funds affiliated with Oaktree Capital and Tennenbaum Capital, must persuade the judge to place restrictions on Caesars that are otherwise automatic in a voluntary case, Grohsgal said. The company has the right to fight those restrictions.
Trustee Suit
Last year, a trustee for the same creditors sued Caesars, claiming the parent company was plundering the best assets of its main operating unit. That case and a similar lawsuit will now be automatically halted by the unit's involuntary bankruptcy.
Caesars has been working on a plan to put the unit into bankruptcy voluntarily as soon as this week and turn it into a real estate investment trust. The company called the filing by lower-ranking creditors a ploy to block that plan.
The Las Vegas-based company said in a statement that it will continue business as usual at its casinos, and it plans to proceed with the previously announced restructuring agreement.
The case is In re Caesars Entertainment Operating Co., 15-10047, U.S. Bankruptcy Court, District of Delaware (Wilmington).
Before it's here, it's on the Bloomberg Terminal.
LEARN MORE