Kerry Urges More U.S.-India Trade as Obama Set to Visit Delhi
Nicole Gaouette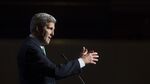 Secretary of State John Kerry called for the U.S. and India to expand economic ties rapidly as U.S. officials said they hope to reach agreements by the time President Barack Obama visits later this month.
"We can do more together and we must do more together and we have to do it faster," Kerry told a conference in Ahmedabad today. "That's why I'm here this week, because I want to make sure our economic relationship grows stronger in every respect."
The top U.S. diplomat is leading a delegation to the investment summit that Prime Minister Narendra Modi started when he was chief minister of Gujarat state. The trip, Kerry's second to India in the past six months, is meant to demonstrate the high priority the U.S. places on its economic partnership with India and the ties between the two countries.
Kerry is also preparing for Obama's visit to India on Jan. 26, to attend Indian Republic Day celebrations as Modi's main guest. That would make Obama the first U.S. president to visit India twice while in office, Kerry said.
The high-level courtship comes as the U.S. and India have renewed talks on issues that have been dormant for years, according to a State Department official who wasn't authorized to speak publicly.
Broad Discussions
The two sides have groups working on trade policy and energy, and a telecoms and Internet group that's meeting this week in Washington, the official said. A dialogue on intellectual property is set to begin soon. The goal is to reach agreements that can be announced during Obama's visit, either on energy, civil nuclear liability, climate change or some combination of the three, to show progress in the relationship, the official said.
Solar energy has been a focus, though India's domestic content requirements have been an impediment, the official said.
Over the course of his two-day visit, Kerry is emphasizing opportunities for U.S. companies to help India meet Modi's economic goals. One topic will be Modi's efforts to reform the business environment to facilitate foreign spending, the State Department official said. The World Bank ranks India at 142 out of 189 countries on the ease of doing business.
"When a company applies for a zoning permit or a permission or land or any other thing, those decisions need to be made," Kerry said.
"We no longer live in a world where countries can be competitive if bureaucracy sends people from door to door, window to window."
Growing Trade
Kerry said the U.S.-India economic partnership "is already growing stronger by the day," with annual trade in goods and services up nearly five-fold since 2000. Bilateral foreign direct investment now stands at nearly $30 billion, he said, adding that the U.S. shares Modi's goal of increasing annual trade by five-fold again in the years ahead.
Kerry said climate change is "one enormous cloud hanging over all of us which requires responsibility from leaders." Referring to Modi's commitment to expand wind and solar energy and increase agricultural resilience, Kerry said those goals created an opportunity for companies to develop "cutting-edge technologies, equipment, capital and know-how, not just to India but to countless countries that need this growth and development now."
Kerry met with Indian, regional and international officials today, including Modi, UN Secretary General Ban Ki-Moon and Bhutan's prime minister, Tshering Tobgay. He also made a stop at Mahatma Gandhi's ashram, touring the museum there and meeting with women CEOs.
Kerry's trip is part of an international tour that will include a meeting with Iran's foreign minister on negotiations over that country's nuclear program. Kerry is scheduled to meet with Mohammad Zarif in Geneva on Jan. 14, a day before teams from Iran and six world powers resume nuclear talks there.
En route to India, Kerry stopped in Munich to meet with Omani Sultan Qaboos bin Said, and will travel to Sofia, Bulgaria, on Jan. 15 for discussions on security, energy, bilateral trade and investment, as well as the rule of law.
Before it's here, it's on the Bloomberg Terminal.
LEARN MORE