What Ever Happened to #BringBackOurGirls?
Nine months after Boko Haram kidnapped over 200 girls, most are still missing, and Boko Haram's reign of terror is stronger than ever.
By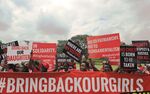 Last spring, thanks to the #BringBackOurGirls hashtag—popularized by celebrities and politicians, including first lady Michelle Obama—people around the world were briefly aware of the plight of more than 200 school girls kidnapped in April, in Chibok, Nigeria, by Boko Haram. But nine months—and dozens of attacks by the Islamic militant group—later, the girls are still missing, and thousands are dead. The U.S. intervention effort—the kind of action the hashtag was meant to inspire—has failed. 
This week the group launched a major attack happened in Baga, near Nigeria's border with Chad. According to the Associated Press, the Boko Haram militants attacked with "rocket-propelled grenades and assault rifles." Amnesty International told the AP that the attack claimed as many as 2,000 lives, making it the "deadliest massacre" in the terrorist group's history. Last year, according to the AP, more than 10,000 people were killed in attacks.
The toll is a reminder that Boko Haram's list of crimes goes well beyond kidnapping and selling the Chibok girls. There have been many more kidnappings of girls—and of boys, women and men.
Since the April 2014 kidnapping, 23 women and men were kidnapped on June 5; 60 people were abducted on June 22; 97 men and boys were kidnapped in August; 185 people, mostly young women and children, were kidnapped in December; and 40 young men and boys, ages 10 to 23, this month. 
The U.S. effort to help the Nigerian military find the Chibok girls—as well as the overall relationship between the two countries—has deteriorated. As Eric Schmitt at the New York Times reported in December, the U.S. is running fewer surveillance drones, several of the intelligence advisors sent to Nigeria have returned, and the U.S. has cancelled plans to train new Nigerian troops. Distrust has inspired this diplomatic deterioration: the U.S. didn't turn over raw surveillance data to Nigeria, over concerns that information might leak to Boko Haram. 
Meanwhile Nigeria's ambassador in Washington, Ade Adefuye, complained late last year that the U.S. hasn't offered it enough support, including weapons, Reuters reported. The State Department responded to the criticism by urging Nigeria to "investigate allegations of abuses perpetrated by Nigerian security forces." (The United Nations has accused the Nigerian military of gross human rights violations; under U.S. law, it is illegal to offer aid to security forces accused of human rights abuses.)
While the U.S./Nigeria collaboration to bring back the Chibok girls has stalled, the campaign not to forget them is ongoing. There have been hundreds of tweets using the hashtag every day of the last month. The families of the missing girls continue to hold rallies and have appealed to the United Nations directly for help.