Child Suicide Bomber Kills 20 in Nigeria Market Attack
Michael Olukayode and Mustapha Muhammad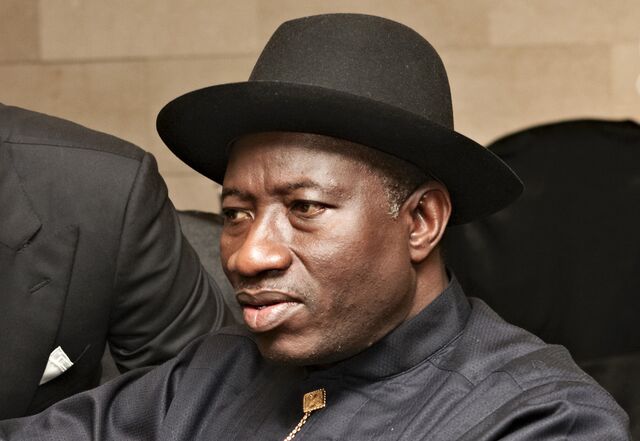 A suicide bomber described as a girl as young as 10 set off explosives at a market in northeastern Nigeria, killing at least 20 people, as the Boko Haram insurgency intensified five weeks before national elections.
At least 18 people were also wounded in the Monday Market bombing, which happened at about 12:30 p.m. in Maiduguri, the Borno state capital, police spokesman Gideon Jibrin said in a text message. It came after a battle with insurgents in the northeast city of Damaturu left five soldiers "fatally wounded," the army said. Forces also began bombing the Islamist-controlled town of Baga.
Isa Ahmed, a member of a local militia who said he helped evacuate the injured and dead, said in an interview that the bomber appeared to be 10 or 11 years old and detonated explosives as she was being searched.
"The attack is disastrous and inhuman, involving a minor in the dastardly act," Ahmed said in a telephone interview.
Authorities in Africa's largest economy and oil producer are struggling to stem raids and bombings by Boko Haram, which has killed more than 13,000 people since 2009, President Goodluck Jonathan said in September. Violence in the predominantly Muslim north is rising as Nigeria prepares for next month's vote. Jonathan, a Christian from the southern oil-rich Niger delta region, will face Muslim northerner and former military ruler Muhammadu Buhari on Feb. 14.
A 13-year-old girl refused to detonate a bomb in another incident on Dec. 10 in Kano after two others set off explosives in a textile market. The girl later said her father had recruited her to fight for Boko Haram.
'Helter-Skelter'
Rescue workers were at the site of the Maiduguri market bombing and the death toll may rise, said Abdulkadir Ibrahim, a spokesman for the National Emergency Management Authority. The bomb was detonated in the area where chickens are sold. The market, which was also attacked in November, was closed off by the military.
In Yobe state, a bomb at a police station today killed two people, including an inspector, after a car was brought there for inspection, police said.
The state capital, Damaturu, was hit last night by "massive attacks from different angles," Nigeria's Defence Headquarters said on its Twitter account today. "Troops are on a mopping-up operation in Damaturu after foiling attempts by terrorists to occupy parts of the town."
The number of casualties is being compiled and soldiers are receiving treatment, the military said. The attack in Damaturu started just after evening Muslim prayers, according to witnesses.
"As we heard the guns firing and explosions we ran helter-skelter back to our homes to escape being caught in the cross-fire," Ahmed Musbahu, a resident in Damaturu, said by phone.
Recapture Towns
More than 100 people were killed in a battle in the city last month. Nigerian forces also began bombing Baga, in Borno state, which was attacked twice in the past week by Islamist rebels, Mike Omeri, a government spokesman, said by phone.
On Jan. 3, Boko Haram captured the headquarters of a multinational military force in northeast Baga that was set up to combat the insurgency. This week, it attacked the town a second time, with the total of people killed being reported as high as 2,000, according to London-based Amnesty International, which said yesterday it is investigating the casualties.
"Security forces were given directives to launch a serious attack on Baga to recapture all the towns seized by Boko Haram, and the Nigeria air force has moved to the area," Omeri said by phone from the capital, Abuja. "The government is doing everything to deal with the situation."
Countless Casualties
Omeri said nobody is able to estimate the number of casualties over the past week in Baga. About 2,000 people have fled the attacks, he said.
The insurgency has made 20 of 27 local government areas in Borno inaccessible and the state's authorities are spending 300 million naira ($1.7 million) a month managing and feeding displaced people in makeshift camps, Grema Terab, chairman of Borno's State Emergency Management Agency, said on Jan. 8.
Some 7,300 Nigerians in the past 10 days have sought haven in Chad, whose border is close to Baga, the United Nations refugee agency said yesterday. At least 850,000 people have been displaced by the violence in three northeastern states of Adamawa, Borno and Yobe, according to the UN.
Before it's here, it's on the Bloomberg Terminal.
LEARN MORE