What Obama's Political Guru Says About Elizabeth Warren
David Axelrod takes a crack at decoding the question: What does the senator want?
Annie Linskey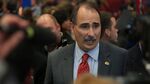 Massachusetts Senator Elizabeth Warren is trying to shape the Democratic Party's message, but isn't aiming to lead it. That's according to President Barack Obama's longtime political strategist David Axelrod, who offered his views on this season's Washington riddle: What does Warren want? 
"She sees her role as trying to define where the candidate goes," Axelrod said in remarks Thursday night at the University of Chicago's Institute of Politics, where he is the founding director. "She understands that there's tremendous leverage in the possibility that she could be a candidate. That's how you move the parties. That's how you move the candidates."
Warren's interest in protecting America's middle class from the business interests that she believes have a stranglehold on Washington policymakers is a motivator for her, Axelrod said. "She's been writing about it for years, long before she was in politics," he said. "She wants to be sure that's incorporated in the vision and the thinking of the Democratic Party."
Warren has pledged to fill out her Senate term, which ends in 2018.  But her supporters are using a careful parsing of her language to keep alive their hopes of a presidential campaign. (She says "I'm not running for president" instead of "I'll never run for president.")  
Two groups, Moveon.org and Democracy for America, announced Friday that more than 200,000 people have signed their "Run Warren Run" petition encouraging her to seek the Democratic nomination. 
During Thursday's talk, Axelrod also noted the possibility of a double-legacy presidential election in 2016 if Hillary Clinton and Jeb Bush both secure their party's nominations. "It puts a real burden on those candidates," he said. "Nobody is looking for a nostalgia campaign."