Saks Claims It Has the Right to Discriminate Against Transgender Employees
By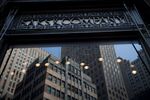 Is it legal to discriminate against an employee for being transgender? The Justice Department, the Equal Employment Opportunity Commission, and some courts say no. But in a motion filed in federal court, Saks & Co. says yes.
In its filing, Saks asks that an ex-employee's discrimination lawsuit be dismissed "because transsexuals are not a protected class under Title VII," the part of the 1964 Civil Rights Act that bans employment discrimination based on race, religion, or sex. As Law360 reported, the plaintiff, a transgender woman named Leyth Jamal, alleges that she was instructed to "separate her home life from her work life" by behaving in a more masculine way, and ultimately was terminated because she spoke up about a hostile work environment. Saks's motion, filed Dec. 29 in the Southern District of Texas, denies the allegations but also counters that "Although Plaintiff's discrimination claim is also couched in terms of 'gender' discrimination, Plaintiff's Complaint makes clear that the gravamen of Plaintiff's claims is discrimination based on Plaintiff's status as a transsexual," and thus not covered by the Civil Rights Act.
Saks's attorney also uses the word "[sic]" (a term generally used to indicate that a quote includes some kind of error) when referring to Jamal's gender, writing that Jamal claimed she was mistreated "because of 'her [sic] gender'" at work. While Saks, according to the Human Rights Campaign, reports having a nondiscrimination policy that includes gender identity protection, Saks's brief states "it is well-settled that policies in an employee handbook do not create a contract."
Asked whether Saks indeed maintains that transgender people are not protected under the Civil Rights Act, and whether it has any issue with its attorney using "[sic]" to refer to Jamal's gender, Saks Senior Vice President Kathleen Ruiz e-mailed that the company did not comment on pending litigation, but "we feel it is important to state that it is Saks Fifth Avenue's position that we did not discriminate in anyway, [sic] and the allegations are not supported by the facts known to Saks." Ruiz added that the company "maintains a long history of policies and practices that are fully supportive of the LGBT community and our LGBT associates." (That matches Ruiz's comment on the issue to BuzzFeed's Chris Geidner.) Saks's attorney told Businessweek he was "not allowed" to discuss the case, and referred inquiries to the company.
Jamal's attorney, Jillian Weiss, told Law360's Aaron Vehling she found Saks's motion "particularly ironic" given the company's public pro-LGBT stance. The LGBT civil rights group Human Rights Campaign told BuzzFeed's Geidner on Thursday that it was suspending Saks's rating in HRC's Corporate Equality Index in protest of Saks's "hugely concerning" legal arguments.
As Geidner reported, Saks's motion came days after a Dec. 15 memo from Attorney General Eric Holder announcing it's now DOJ policy that transgender people are protected under Title VII. Holder's announcement followed a 2012 ruling by the federal Equal Employment Opportunity Commission that gender identity discrimination is a form of illegal sex discrimination. But, as Holder noted in his memo, courts have come down on both sides of the question. And as Saks's filing ("[sic]" and all) illustrates, the EEOC's or DOJ's determination lacks the full legal force of a Supreme Court ruling or a federal statute.
The Employment Non-Discrimination Act, a federal bill to ban anti-LGBT workplace discrimination, passed the Senate in 2013 but died in the House. "For full clarity, we need to have this in place," Representative Mark Pocan (D-Wis.), an ENDA co-sponsor, told Businessweek last year. "By putting it in statute, you'll have the full strength of law behind it."
Before it's here, it's on the Bloomberg Terminal.
LEARN MORE