British Airways Owner IAG's Second Aer Lingus Offer Spurned
Kari Lundgren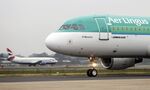 British Airways owner IAG SA said it lifted its bid for Aer Lingus Group Plc at the end of last month and and was rebuffed again by the Irish carrier's board.
The adjusted proposal, made on Dec. 29, was a cash offer worth 2.40 euros ($2.84) a share, 10 cents more than the first two weeks earlier, London-based IAG said in a statement today. The latest approach values Aer Lingus at 1.28 billion euros.
Buying the Irish carrier would help swell IAG's bank of scarce take-off and landing positions at London Heathrow, Europe's busiest hub, where British Airways is the No. 1 carrier. The company, which acquired the former British Midland to gain slots, would need to broker a deal with 30 percent shareholder Ryanair Holdings Plc, which saw its own takeover bids for Aer Lingus blocked. IAG would also need to come to terms with the Irish government, which controls 25 percent.
"There can be no certainty that any further proposal or offer will be forthcoming," said IAG, as International Consolidated Airlines Group SA is known. "A further statement will be made if and when appropriate."
Aer Lingus closed up 10 percent at 2.50 euros in Dublin today -- 10 cents above the offer price. The stock has risen 37 percent since Dec. 17, the day before the first proposal became public, giving the airline a market value of 1.34 billion euros.
Other interested buyers might include Gulf carrier Etihad Airways PJSC, which owns 4 percent of Aer Lingus, and Virgin Atlantic Airways Ltd. in combination with Delta Air Lines Inc., Goodbody analysts said in December.
Before it's here, it's on the Bloomberg Terminal.
LEARN MORE