Algerian Offers to Buy Charlie Hebdo to Defend Freedom
Angeline Benoit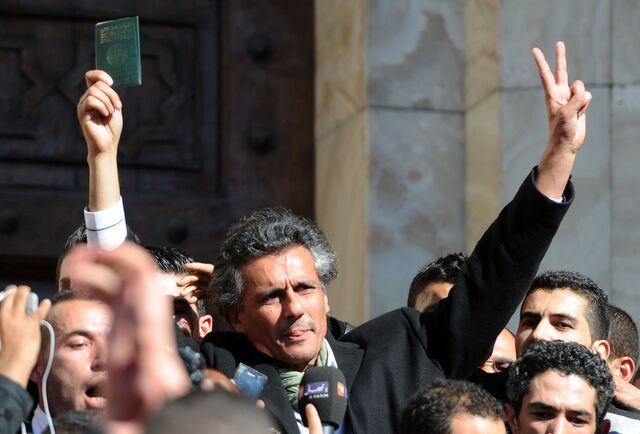 Rachid Nekkaz gave up French citizenship, put off by what he sees as the nation's anti-Muslim policies. Now his attachment to the country's values is prompting him to offer to invest in Charlie Hebdo, the satirical weekly ravaged by an Islamist massacre this week.
"This carnage is a declaration of war on civilization," Nekkaz said in a telephone interview from Algeria, where he moved a year and a half ago to run for president. "No Muslim in the world can accept that a human being is assassinated in the name of Islam."
Nekkaz grew up in Choisy-le-Roi, a working class suburb south of Paris, as the ninth of 12 children and escaped the fate of many descendants of poor and uneducated immigrants from France's former colonies. A computer entrepreneur and property investor, he is also known for protesting against the prohibition of women wearing face-covering veils in public spaces and has supported people fined under those laws.
French President Francois Hollande today renewed his call for national unity as police chased two men suspected of murdering eight Charlie Hebdo journalists. A third gunman seized five hostages at a kosher food shop on the eastern edge of Paris today. The gunman has demanded the suspected attackers be freed, Europe 1 radio reported.
Thousands of citizens across the country are expected to protest against terrorism from tomorrow while media and the government have pledged to help the satirical newspaper continue to publish.
Government Support
Nekkaz says he contacted the satirical newspaper's staff to offer 700,000 euros ($820,000) for a 51 percent stake in Les Editions Rotatives, the holding company that owns the publication and is controlled by senior staff. The terms are the same as a previous offer in 2012 and include a guarantee of independence, he said.
"Muslims accept the publication of Charlie Hebdo caricatures even when it goes against their beliefs," he said.
The French government has pledged 1 million euros in aid for the magazine, Le Figaro reported. The magazine's surviving staff plan to print a million copies this week, compared with a typical run of 60,000.
"The strongest response is to say that we're carrying on," Prime Minister Manuel Valls told reporters in televised comments. "We must all stand together by the values of freedom and tolerance."
Earlier Offer
Nekkaz wrote to the staff's general e-mail address as his contact, cartoonist Stephane Charbonnier, had been killed. In 2012, Charbonnier, known as Charb, declined an offer saying that the newspaper was under police protection and was exploring other avenues to deal with financial difficulties.
"He told me staff took decisions together and that they'd come back to me if needed," Nekkaz said.
The 43 year-old describes himself as a "die-hard republican" and says paying fines for women punished for covering their faces and helping Charlie Hebdo both stem from his commitment to "freedom of expression, religion, movement or choice of garments."
In the last three and a half years, Nekkaz says he's paid 894 fines for a total amount of 206,000 euros. He plans to fly to France next week to pay three more in Neuilly-sur-Seine, Longjumeau, close to Paris, and Vaulx-en-Velin, near Lyon in the south. His campaign has prompted some members of the French Parliament to push for a law to stop him.
"The gap is deepening between the Republic's beautiful ideals and the way they're actually implemented on the ground," he said. "I won't accept that fear of Islam is exploited to push through laws that restrict our freedom."
Before it's here, it's on the Bloomberg Terminal.
LEARN MORE