Supreme Court Could Decide Fate of Same-Sex Marriage Soon
Greg Stohr and Andrew Harris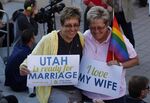 Same-sex marriage advocates are eyeing the end of a decades-long fight as they ask the U.S. Supreme Court for a nationwide ruling that would cap a transformation in the legal rights of gay Americans.
The justices may say as soon as Friday whether they will hear arguments that the Constitution guarantees same-sex marriage rights. High court review would threaten bans that remain in effect in 14 states.
The country has already undergone sweeping changes since October, when the justices ducked the subject by rejecting seven appeals. The number of states where gays can marry has since surged to 36 from 19, with Florida's addition this week. That puts more than 70 percent of the U.S. population in a gay-marriage jurisdiction and leaves a less daunting task for those justices inclined toward legalization.
"We are in the end game on the freedom to marry for same-sex couples," said James Esseks, a lawyer who leads the gay-rights project at the American Civil Liberties Union. "The reality on the ground is that in 36 states same-sex couples can marry, and the sky has not fallen."
At the same time, legal uncertainty has increased, putting more pressure on the Supreme Court to act. Federal appeals courts are now divided, with four backing marriage rights, one opposing and a sixth preparing to hear arguments in New Orleans on Friday.
Five Appeals
The nine Supreme Court justices will have five appeals before them when they meet privately in their wood-paneled conference room on the court's second floor. An immediate decision to take up one or more of those cases would probably mean arguments in April and a ruling by late June. The justices also could delay review until their next nine-month term starts in October.
A Supreme Court decision legalizing gay marriage would be a watershed moment for a movement that as recently as 1996 had support from only 27 percent of the American public, according to a Gallup poll. The latest Gallup survey on the subject, conducted in May, showed 55 percent supporting gay marriage and 42 percent opposing.
Gay-marriage supporters have reason for confidence even in a court that has conservative leanings on other social issues, including affirmative action and abortion.
The likely swing vote, Justice Anthony Kennedy, has been a champion for gay rights, writing the court's 2003 decision that said states can't criminalize gay sex acts. Kennedy also wrote the 2013 decision striking down the core of the U.S. Defense of Marriage Act, which denied federal benefits to same-sex spouses.
'Sexual Choices'
The latter decision, United States v. Windsor, is now the central precedent for supporters of marriage rights. In it, Kennedy said the Constitution protects same-sex couples' "moral and sexual choices," and he rejected many of the justifications for treating them differently from heterosexuals.
Opponents of gay marriage point to other parts of Kennedy's opinion that emphasize the traditional role of states in defining marriage.
"The court should uphold the freedom of Americans to affirm marriage as the union of a man and a woman," said Jim Campbell, an attorney with the Scottsdale, Arizona-based Alliance Defending Freedom, which has fought against same-sex unions in four states.
Incremental Moves
So far, Kennedy and his colleagues have moved incrementally. When the justices had a chance to rule on gay marriage in a separate 2013 case, Kennedy used the argument session to question whether the court should have agreed to hear the California dispute. The court eventually issued a procedural ruling that let marriages in that state go forward.
In October, the court spurned calls from both sides for a hearing. Weeks later another member of the Windsor majority, Justice Ruth Bader Ginsburg, said there was "no crying need" for Supreme Court review as long as federal appeals courts were in accord.
At the time, every federal appeals court to have ruled had backed marriage rights. That changed in November when a Cincinnati-based court ruled 2-1 that the Constitution lets states restrict marriage to male-female relationships. Same-sex couples in Michigan, Kentucky, Tennessee and Ohio have filed separate appeals of that ruling.
The Michigan case may be the best candidate for Supreme Court review. Unlike the Tennessee and Ohio cases, the Michigan appeal directly challenges the state's ban. And in contrast to Kentucky, where Attorney General Jack Conway is no longer resisting same-sex marriage, Michigan officials have mounted a full-scale defense of their prohibition.
State Voters
"Marriage is an issue left to voters at the state level," Michigan Governor Richard Snyder and Attorney General Bill Schuette argued in court papers.
The challengers in the Michigan case are April DeBoer and Jayne Rowse, nurses who have adopted three children, including two with special needs.
"The bans deny children in same-sex couple families the dignity, status, stability and security enjoyed by the children of married opposite-sex couple parents," they argued in their appeal.
Esseks, the ACLU lawyer, says any of the appeals would offer the chance of a ruling that marriage advocates have long sought.
"They all have great plaintiffs leading the cases," he said. "They all have good lawyers. Any one of the cases would give the court the ability to address all the issues it needs to address in order to get us to a uniform rule nationwide."
New Orleans Panel
While the justices are conferring, a three-judge panel in New Orleans will be asked to reconcile divergent rulings that arose last year from U.S. courts in Texas, Louisiana and Mississippi.
Gay-marriage proponents won orders blocking bans in Texas and Mississippi. Enforcement of each of those decisions -- the former issued in February, the latter in November -- was delayed pending the outcome of appeals. In September, New Orleans Judge Martin L.C. Feldman upheld Louisiana's prohibition.
Feldman said the traditional definition of marriage as a heterosexual union "has endured in history for thousands of years."
His decision is being challenged on appeal by seven gay couples, some seeking permission to wed in Louisiana and others asking for recognition of their out-of-state marriages.
In an unusual twist, the Louisiana case will also be before the Supreme Court at its private conference. The suing couples are asking the justices to take the rare step of bypassing the appeals court stage.
The three-judge appellate panel that will review the cases includes Judges Patrick Higginbotham and Jerry E. Smith, each appointed by Republican President Ronald Reagan, and Judge James E. Graves, who was selected in 2011 by Democratic President Barack Obama.