Jobless Claims Drop as U.S. Employers Keep Holiday Workers
Nina Glinski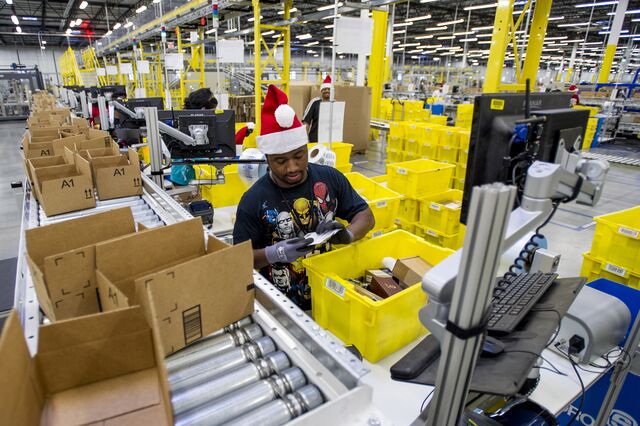 Fewer Americans filed for unemployment benefits last week as labor-market tightening compelled employers to hold on to seasonal hires.
Jobless claims decreased by 4,000 to 294,000 in the week ended Jan. 3, the Labor Department said today in Washington. The median forecast of 45 economists surveyed by Bloomberg called for a decline to 290,000.
Employers finding it harder to fill vacancies are probably holding on to workers hired during the holidays as the economy expands and consumers spending picks up. The need to keep staff may mean companies will soon need to also boost wages.
Claims are "low enough to be consistent with very big payroll gains," Ian Shepherdson, chief economist at Pantheon Macroeconomics Inc. in White Plains, New York, said in a research note. "If the economy strengthens again in the first half, it could easily dip to new lows."
Stock-index futures held earlier gains after the report. The contract on the Standard & Poor's 500 Index maturing in March climbed 0.8 percent to 2,035.6 at 8:46 a.m. in New York on speculation central banks will support growth even as the American economy shows signs of strength.
Claims estimates in the Bloomberg survey ranged from 285,000 to 300,000. The prior weeks' figure was unrevised at 298,000. The number of applications dropped as low as 266,000 in mid October, a 14-year low.
Nothing Unusual
There was nothing unusual in the claims data and no states were estimated, a Labor Department spokesman said as the report was released to the press.
The four-week average of claims, a less-volatile measure than the weekly figure, declined to 290,500 from 290,750 the week before.
The number of people continuing to receive jobless benefits climbed by 101,000 to 2.45 million in the week ended Dec. 27. The unemployment rate among people eligible for benefits held at 1.8 percent. These data are reported with a one-week lag.
A report yesterday showed companies added more workers than forecast in December, as the pickup in household spending drove economic expansion and boosted corporate headcounts. ADP Research Institute recorded a 241,000 increase in employment, the biggest since June.
Employment Forecast
Labor Department figures tomorrow are projected to show payrolls climbed by 240,000 in December, which would the gain in employment for all of 2014 at 2.89 million, the most since 1999, according to the median estimate of economists surveyed by Bloomberg. The jobless rate is forecast to drop to 5.7 percent, making it the lowest since June 2008.
The wrinkle in the jobs picture could come from the energy industry, which faces consolidation and workforce cuts as oil prices decline. Halliburton Co., the world's second-largest oil services company, said on Dec. 11 that it plans to dismiss 1,000 employees worldwide.
"We believe these job eliminations are necessary in order to work through this market environment," the Houston-based company said in an e-mail.
Today's report showed Texas had the biggest drop in claims last week, indicating the job losses have yet to materialize.
Americans paid an average $2.18 a gallon for regular gasoline on Jan. 7, the lowest since May 2009, according to AAA, the country's largest auto group.
Consumer Spending
The savings are promoting gains in spending on other goods and services that is helping underpin economic growth as economies in Europe, Japan and some emerging markets cool.
Carmakers and auto dealerships are among those benefiting. General Motors Co., Ford Motor Co. and other major automakers are poised for another year of gains in 2015 as oil prices drop. Light-vehicle sales may rise to 16.7 million or more this year, Toyota Motor Corp. this wek, from 16.5 million in 2014 that was the most since 2006.
"As we look into 2015, economic indicators remain robust and the fundamentals are poised for a continuation of the momentum we saw in the latter part of 2014," Emily Kolinski Morris, Ford's chief economist, told analysts and reporters on a Jan. 5 conference call.
Before it's here, it's on the Bloomberg Terminal.
LEARN MORE