Extra Lives: Can GameStop Avoid Blockbuster's Fate?
How the video game chain is beating the odds in the Digital Age
by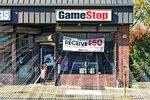 Tim Brooks claims to know 98 percent to 100 percent of the people who visit his store, a GameStop on a scruffy city block in northern Philadelphia. On an October afternoon, it doesn't seem like he's exaggerating. Brooks, a thin 25-year-old with thick-framed glasses and an aura of perpetual enthusiasm, has been working for the video game chain since he was 16. When customers walk into the branch he manages on West Chelten Avenue, he can remember what titles they have at home. Brooks tells a cop who's bored with Destiny to try Shadow of Mordor. He banters with a parking enforcement officer and asks about the younger brother of a teenage customer who's here to buy a few Skylanders action figures. He nods at a heavyset man whom he knows as "Jeff, from the water department" and doesn't engage him further. "He's a loner," says Brooks, watching Jeff from across the store. "He wants to look where he looks, and then comes back to you." After a shift spent glad-handing as though he's pouring drinks for regulars at a corner watering hole, Brooks often heads home, powers up his own console, and plays online with people he's met in the store.
This is the surprisingly happy face of GameStop, the chain of 6,700 stores worldwide that sell new and used video games. Many outsiders assume the company is doomed. Like music, books, and movies, video games are changing from physical objects that people buy in stores to digital products they download at home—a trend threatening to render all brick-and-mortar retailers obsolete. GameStop, in theory, has even less going for it than bookstores or record shops. Its customers aren't the type to wax poetic about the musty smell of paper or the tactile pleasures of vinyl. The company is the most heavily shorted stock in the Standard & Poor's 500-stock index, according to Bloomberg, with more than 40 percent of its shares borrowed in hopes they will lose value. "The comparison everyone wants to make is Blockbuster," says James Hardiman, who covered the stock as an analyst at Longbow Research until November. "They've just been dealt a very difficult hand."
A particularly intense spate of GameStop doomsdayism came with the release of Microsoft's and Sony's next-generation consoles in late 2013. The Xbox One and PlayStation 4 were rumored to include code that would prevent the use of used games—a potentially devastating blow to GameStop, which gets 27 percent of its revenue from trade-ins. But gamers revolted, and instead of a death sentence GameStop has gotten a lift from the consoles. Its sales of the devices are growing twice as fast as the industry as a whole, and its sales of their games have risen almost four times as fast.

The surge may not last. After a strong summer, GameStop hired 25,000 temporary workers for the holiday season, a 50 percent increase from the year before. But in late November the chain reported disappointing earnings and then weak Black Friday sales, and the value of its stock has since declined more than 24 percent.
Paul Raines, its chief executive officer, says the company is used to operating in the face of doubt. The skepticism, he says, comes from people pigeonholing GameStop as a physical retailer when it's more than that. "We're such a complex animal," he says. "There is no elevator pitch for GameStop."
Raines points to the company's improbable feat of inserting itself into the market for downloadable game content. No one would ever schlep to a Barnes & Noble to download an e-book, but GameStop claims a 30 percent to 40 percent market share in the sale of digitally licensed content, such as extra game levels, and a 10 percent to 15 percent share of full-game downloads. Its overall digital business is on track to bring in $830 million in revenue in its current fiscal year, which ends in January, out of a total $9.6 billion. The chain is able to sell downloads in physical stores in part because many of its younger customers don't have credit cards, which makes it hard to pay online, and because people want to use the trade-in value of games they're done playing. GameStop seeks to expand this model to other kinds of secondhand goods, opening stores that sell phones, tablets, and other devices.
Thanks to branch managers such as Brooks, GameStop has an impressive handle on the economics and psychology of a market largely made up of males in their teens and 20s. There are few demographics less welcome in the average retail location than young, aimless men, but GameStop encourages them to come in, mill around, and talk to one another. Brooks says this applies even to people who don't plan on buying anything. "We have people who shop at Amazon but come in here for the interaction," he says. "We say, 'Look man, I get paid either way—I'm here to help you.' That goes a long way."
 
 
GameStop started in the mid-1980s as Babbage's, a Ross Perot-backed chain of gaming stores in Dallas named after the man who helped invent the computer. The company went public in 1988, then bankrupt in 1996, after not being able to secure financing to stock its stores for the holiday season. It ended up under the control of Barnes & Noble for several years before the bookseller took it public again in 2002. Over time, Babbage's and its descendants have swallowed a majority of the recognizable brands in video game retailing, most notably through the 2000 acquisition of FuncoLand for $162 million, which was its entrance into the used-game market, and the $1.5 billion purchase of EB Games in 2005. The name GameStop was first used in 1999 as the online sales branch of the company.
While being a gamer is the main professional qualification for getting a job at a GameStop store—Brooks got hired by hanging out at his local branch and making a nuisance of himself—that's not true of its C-suite. Raines joined the company in 2008 after 12 years at Home Depot and L.L. Bean. (He recently returned to work after undergoing treatment for brain cancer.) President Tony Bartel arrived in 2005 from a multinational that sells cleaning supplies and pet products and once served as the chief financial officer of Pizza Hut. Raines and Bartel acknowledge that GameStop will face major upheaval as gaming moves further online, and the two are focusing on aspects of the business that don't take place in the stores themselves.
There are essentially no competitors left who focus solely on video games. GameStop now vies with Wal-Mart, Target, Best Buy, and Amazon.com to sell new gaming equipment and software—and more than holds its own. The chain claims to control more than 50 percent of the market for games designed for PS4 and Xbox One. The key to selling new consoles and titles is buying the used versions, Bartel says. More than 30 percent of the new consoles GameStop has sold were enabled by a trade-in credit, he says. Typically, a customer will bring in a stack of games he's tired of and use the credit toward a larger purchase. Economically, GameStop benefits from these transactions more than its customers. It offers $12 in cash or $15 credit for Lego The Hobbit, for example (members of a loyalty program get 10 percent more), and resells the pre-owned game for $38.
Once a game is sold back to a local GameStop store, it's shipped to a 180,000-square-foot facility near the company's headquarters in the Dallas suburbs. The discs are examined, buffed, and reshipped—or destroyed. Some 400,000 games pass through the refurbishment center in a busy week. The facility also employs technicians who disassemble and repair damaged consoles. A boon for GameStop in 2009 was figuring out how to solve the so-called Red Ring of Death, a faulty connection between the chip and motherboard that rendered Xbox 360 consoles useless. GameStop's R&D team discovered that the problem could be solved by heating up the top of the device while cooling it from below, reconnecting a damaged chip to the motherboard without ruining it. The fix is now regularly carried out by a $10-per-hour laborer operating a machine that GameStop built itself. A refurbished console can be sold at close to its original price.
GameStop's competitors haven't been able to replicate its trade-in operation, though they've tried. Most recently, Wal-Mart said in March that it would begin buying used games, paying for them with gift cards that can be used for anything in its stores. It said in October that it's begun selling used games at 1,700 of its 4,300 U.S. stores. "Our goal is to buy used video games for more and ultimately sell pre-owned video games for less," says Laura Phillips, Wal-Mart's senior vice president for entertainment.
This could squeeze GameStop's fat margins on used games, which account for 44 percent of its profit. Over the summer the company made its trade-in policies simpler and more generous. Michael Pachter, an analyst with Wedbush Securities, says Wal-Mart isn't a major threat, because GameStop is exceptionally good at persuading people to choose it as a destination for their used games. "The trick in used is not demand, it's supply," he says. "Getting people to buy used games is easy, because cheap people will buy used stuff. Getting people to trade in games requires a relationship."
At his store in Philadelphia, Brooks says his customers feel the same way about him that they do a trusted car mechanic. This inspires some strange behavior. When Brooks has moved branches, customers find out where he's gone and start buying games from that store instead, even if it means a longer trip. Then there are the phone calls. Many customers call asking for a specific employee, Brooks says, and refuse to be served by anyone else—even if the question is as simple as "What time does the store close?"
Brooks occasionally notices a customer trading in a game he knows he didn't sell to them, and they'll sheepishly admit another store was having a sale. But he says that's the exception. "People bring in stacks of games, and I'm like, 'I sold you all these games,' " he says. "Not GameStop. Me personally."
 
 
While GameStop's relationship with the gaming industry has been fraught at times—Microsoft and Sony don't see a penny of used game sales—the company is betting its future on proving it can be valuable to console makers and game publishers. About five years ago, Bartel approached Microsoft and Sony with a proposal to cooperate in what seemed like an unnatural area: downloads. At the time, gaming publishers were selling bonus downloadable content such as extra weapons and new characters, but sales were disappointing. Players weren't used to looking for the items. "We said to them, 'Nobody can find this stuff,' " Bartel says. He knew where to find a captive audience of gamers who would listen to a sales pitch: "We have all these people who are standing in line."
Today, anyone who buys a new game at GameStop is likely to get a spiel from a sales clerk about these additional features. At game launches, the pitches work 20 percent to 30 percent of the time, according to the company, and game publishers and platforms rely on GameStop to push sales for them. Ubisoft, which created the bestsellers Assassin's Creed and Watch Dogs, said in a recent earnings call that 70 percent of its sales of "season passes" of downloadable content in this year's first quarter took place at a physical retailer. For Microsoft the figure is 40 percent; Sony says one-third of digital sales come from retail locations. "GameStop wraps its arms around the gamers in a way that someone else hasn't done yet," says John Koller, vice president for marketing for Sony's North American business.
This success could be transitory. GameStop has a chance to sell digital content to people who come into stores to buy full games. But when full video games are mostly downloaded directly to a console, many people may decide never to visit the store in the first place.
There's currently no such thing as a used version of a downloadable game. Raines and Bartel think that will change, arguing that the industry needs the used trade to keep selling new titles at the customary $60. Consumers are used to getting an effective $20 discount by bringing back games they've grown tired of playing. "All of a sudden you have a situation where publishers can't charge $60, which we think will be bad for the ecosystem," Bartel says. "You don't see many digital items being sold at a $60 price point. Movies are $5. Songs are 99¢."
No other form of digital media has a fully formed secondary market resembling a used trade. A startup called ReDigi attempted one for pre-owned digital music in 2011, but last year a judge said the company was breaking the law. It's planning to appeal and has continued to operate on a small scale. If gaming publishers who own their copyrights decide they really do need a secondary market, they could choose to allow it. GameStop says it's discussed the idea with publishers and console manufacturers, but any solution seems far off. GameStop wouldn't necessarily be guaranteed a role. "In the unlikely event that a digital buy-sell-trade marketplace is agreed upon, the publishers will likely opt for the PlayStation Store and the Xbox Games Store to cut out the retail margin that GameStop enjoys," wrote Pachter in a research note in August.
The company is hedging against that possibility by expanding beyond gaming and into the used smartphone market. The idea came when Raines and Bruce Kulp, a senior vice president who runs GameStop's supply chain operation, were making the rounds of Dallas-area stores three years ago. One manager was helping someone decide between two games because he could only afford one, Kulp remembers. The customer had spent most of his money on a new iPod Touch. "If we have consumers debating how much they have to spend on games, because some of their wallet share is going to another device, we better get into that device," he says.
Since then, about 3 million mobile devices have passed through the refurbishment center. Most are destined either for GameStop locations or for used-phone shops such as BuyMyTronics and Cricket Wireless. GameStop also sells to wholesalers in Asian markets if it can fetch a better price there. Its technology businesses already account for about 18 percent of its revenue, and Bartel says he expects the phone business to grow to $1 billion by 2016. GameStop recently said it would take on $350 million in new debt to get there.

How successful you think the venture into the phone business will be depends on what you think GameStop is good at. Executives insist that their knowledge of the trade-in business will give them an advantage over the phone carriers, manufacturers, and retailers who have also gotten into phone reselling in the last year or two. But GameStop's competitive advantage in game retail has been authentic knowledge about a specific market. Gamers like interacting with staffers who actually play video games. Everyone knows how to use a smartphone.
 
 
The crowds start gathering in the early evening of Oct. 6 at GameStop's Union Square location in New York City. At midnight, the new version of NBA2K15—the premier basketball game for the PS4 and Xbox One—is going on sale. From the looks of the scene, a passerby might be confused about whether people are here to buy a basketball video game or to try out for an actual basketball team. There are lots of mesh shorts and hightops, and several men have balls tucked under their arms. A group crowds around a screen to wait their turn to play a demo. Nearby, two men who'd just met share a cigarette and lament that dunking has become too complicated in the game's more recent versions.
Almost everyone is planning on walking out of the store at 12:01 a.m. with a physical disc in hand. There are many theories about why this is preferable to a download. Downloads take up space on a hard drive; they can't be traded in; they don't look good on a shelf. Besides, you can never really trust the companies that make the games. "If I have a physical copy, it's mine," says Edwin Mensah, a 23-year-old from Flatbush, Brooklyn. "If it's the download, they could say I didn't really buy it."
Andrew Robins, 19, says he suspects that years from now, PlayStation games could be collectibles. He ponders whether the same is true of CDs, but can't get over the baffling idea that people would want to own music in physical form. It's so easy to download a song. Of course, says Robins, a downloadable version of NBA2K15 will also become available at midnight. But he's not ready to take that step. "You could do all those things with video games," he says, "but then you miss out on the whole experience."
Before it's here, it's on the Bloomberg Terminal.
LEARN MORE