Extra Lives: Can GameStop Avoid Blockbuster's Fate?
How the video game chain is beating the odds in the Digital Age
By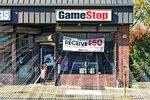 Tim Brooks claims to know 98 percent to 100 percent of the people who visit his store, a GameStop on a scruffy city block in northern Philadelphia. On an October afternoon, it doesn't seem like he's exaggerating. Brooks, a thin 25-year-old with thick-framed glasses and an aura of perpetual enthusiasm, has been working for the video game chain since he was 16. When customers walk into the branch he manages on West Chelten Avenue, he can remember what titles they have at home. Brooks tells a cop who's bored with Destiny to try Shadow of Mordor. He banters with a parking enforcement officer and asks about the younger brother of a teenage customer who's here to buy a few Skylanders action figures. He nods at a heavyset man whom he knows as "Jeff, from the water department" and doesn't engage him further. "He's a loner," says Brooks, watching Jeff from across the store. "He wants to look where he looks, and then comes back to you." After a shift spent glad-handing as though he's pouring drinks for regulars at a corner watering hole, Brooks often heads home, powers up his own console, and plays online with people he's met in the store.