How Ackman Team's Meeting With Herbalife Was Torpedoed
Duane D. Stanford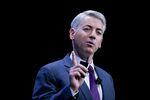 Despite waging a two-year campaign to destroy Herbalife Ltd., investor Bill Ackman and his team have never held a meeting with the nutrition company. That was supposed to change in December, until Ackman's lawyer canceled.
The scrapped Dec. 17 meeting has now become another point of contention in an already-nasty feud. Herbalife has said the billionaire is refusing to hold discussions with the company, even though he publicly called for a meeting in November. Ackman released e-mails today saying his staff merely sought to reschedule.
"I'm sorry about having to postpone our meeting," Ackman's lawyer wrote in a Dec. 11 e-mail to an Herbalife executive. "We're not passing up the chance to meet you."
Such a meeting would be significant. Direct communication with the seller of diet shakes has been a missing component from Ackman's Herbalife campaign. He has openly criticized the company since 2012, when he first took out a $1 billion bet against Herbalife and called it a pyramid scheme. While Herbalife denies Ackman's assertion that it uses overpriced products to hide a criminal enterprise, the scrutiny has led to a U.S. Federal Trade Commission probe.
Herbalife also has adjusted its business model in the wake of the attacks, leading to slowing growth and weighing on its stock price. The shares tumbled for five straight days over the past two weeks, though they began to rebound yesterday. The stock has gained 13 percent since Jan. 6, closing today at $34.25. The shares had tumbled 19 percent the two previous days and 52 percent last year.
E-Mail Exchange
The recent discussions about holding a meeting started Nov. 6 with a 19-page letter made public by David Klafter, the senior counsel for Ackman's firm, Pershing Square Capital Management LP. It was sent to Herbalife's new compliance chief Pamela Jones Harbour and described what he said were serious compliance problems at Herbalife. Klafter said he would met with Harbour "anytime, anywhere."
Harbour took him up on the offer during a Nov. 18 phone call and follow-up note, inviting Klafter to Herbalife headquarters in Los Angeles on Dec. 17, according to the e-mails released today by Pershing Square. While there, Klafter would also tour a distribution center and the nutrition clubs Ackman has lambasted as fronts for the alleged pyramid scheme.
Things didn't go smoothly from there. In a return e-mail the next day, Klafter wanted assurance that the meeting would be a "substantive discussion" of the compliance issues he raised publicly earlier in the month.
'PR Role'
"It appears you have been conscripted into a PR role rather than a role as the head of a new, robust compliance department," Klafter wrote. "You propose to introduce us to the Herbalife which 'millions of consumers have grown to know and love' -- simply a marketing slogan."
That set off Harbour, who served as an FTC commissioner from 2003 to 2010 and was a prosecutor in the New York State attorney general's office for 12 years.
"Inexplicably, you have suggested my position and function at Herbalife will be cosmetic," she wrote the following day. "As head of compliance, I will fulfill my function with the same degree of professionalism, ethics and substantive rigor that have defined my legacy.
''You have not done any due diligence on me if you think otherwise.''
A few days later Klafter wrote to confirm the meeting in Los Angeles and said he'd bring along two other attorneys and a Pershing Square analyst. It wasn't meant to be. He wrote again on Dec. 10 to say he was ''getting jammed next week" and needed to postpone the visit.
'Getting Jammed'
Harbour responded the next day that she was disappointed, and mocked his excuse that he was "getting jammed."
"I would think that with such a large investment targeting my company, that developing a real understanding of our business and practices would be a priority and not something that you would want to pass up," she wrote.
Klafter shot back an apology and another jab, adding that Pershing Square wasn't passing on a meeting.
"After three years examining Herbalife, we understand its business and practices," he wrote. "What we want is to sit in a room with you and talk about compliance and how you plan to change this area of the company."
On the day of the now-canceled meeting, Pershing Square and Ackman instead unveiled a new public attack, releasing a years-old internal video of a high-level Herbalife distributor that Ackman said bolstered his allegations. The company denied Ackman's interpretation of the recording at a private Herbalife distributor meeting.
A new date for a meeting between Pershing Square and Herbalife has yet to be agreed on.
Before it's here, it's on the Bloomberg Terminal.
LEARN MORE