Former Japan Party Chief Seeks Comeback to Fight Abe 'Arrogance'
Isabel Reynolds and Maiko Takahashi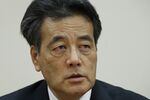 Katsuya Okada, who led Japan's biggest opposition party to a crushing defeat a decade ago, says he now offers the best chance to revive its fortunes and challenge the "arrogance" of Prime Minister Shinzo Abe's ruling coalition.
Okada, 61, faces former nuclear policy minister Goshi Hosono, 43, and 54-year-old Akira Nagatsuma in the Jan. 18 Democratic Party of Japan leadership election. Okada stepped down as leader in 2005 to take responsibility for that year's election loss.
"The Abe administration has become too big and I think it's showing signs of arrogance and taking things for granted," Okada said in an interview Jan. 7 at his offices in Tokyo. "It will probably reach a dead end at some point and if there is no alternative, Japan's politics will be in an unhappy state."
The lack of a viable opposition was the main reason Abe's coalition won a second two-thirds majority in the lower house of parliament in last month's general election, according to three in four voters surveyed by the Asahi newspaper in a Dec. 15-16 poll. Only 11 percent said the ruling party won because people wanted to give Abe a new mandate for his policies, the paper said.
New Generation
Okada was deputy prime minister in 2012 when Abe's victory knocked the DPJ from power after the public tired of policy reversals on security and tax and a series of leadership changes. Abe's more recent victory in the December election, left the DPJ with only 72 seats in parliament's more powerful lower house, compared with 290 for the ruling Liberal Democratic Party.
Abe campaigned for a mandate to continue with a three-pronged economic policy of monetary, fiscal and reform steps aimed at defeating the deflation that dogged the economy for years. The Democrats, backed by Japan's Trade Union Federation, vowed to support the middle classes by retaining regulations protecting workers and to help women and children out of poverty. They also promised to reverse Abe's reinterpretation of the pacifist constitution, which is aimed at allowing a greater role for the armed forces.
Recent Surgery
"Rebuilding the DPJ is an extremely difficult job," said Okada, who said his leadership campaign has been hampered by recent surgery for a detached retina, which has forced him to wear an eye patch at press conferences. "The situation facing the party is not one where you can just change the cover. Someone with power needs to put everything into it."
A poll published by Kyodo News on Dec. 25 found 17 percent of respondents backed Okada as DPJ leader, while nearly 15 percent favored Hosono. Almost half said the party should seek to merge with other opposition parties rather than remaining a separate entity.
'Adjust the Course'
Abe's general election win puts him in pole position for reappointment as LDP leader at a September party conference. A victory in the 2016 upper house election could enable him to stay in office until 2018, which would make him the longest-serving premier since the 1970s. The DPJ's role for the time being will be to "adjust the course" of Abe's policies, rather than opposing everything, Okada said.
"They may try to improve party support by bringing in a fresh, new generation," said Naoko Taniguchi, Associate Professor of Political Science at Tokyo Institute of Technology. "Or they may pick Okada if they really want someone to tackle the Abe administration head on, because he has more experience."
Okada, a former foreign minister, said he was worried about the new statement Abe plans to publish to mark the 70th anniversary of the end of World War II. The declaration, following previous statements of remorse on the 50th and 60th anniversaries, will come amid fraught ties with China and South Korea over territorial disputes and criticism of Japan's attitude to wartime history.
"I want him to take the greatest care in drawing it up," Okada said. "I can't forgive anything that would undermine the efforts of our predecessors and Japan's path over the past 70 years."
Before it's here, it's on the Bloomberg Terminal.
LEARN MORE