How Local Politicians Scuttled a Crucial Federal Bridge Upgrade
The Interstate Bridge over the Columbia River is outdated and dangerous, and nothing will be done
By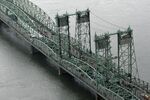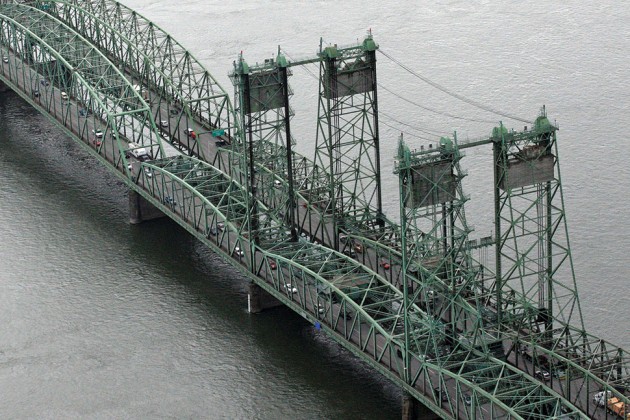 The rotting bridge that carries traffic on Interstate 5, the busiest West Coast trucking artery, across the Columbia River between Portland, Ore., and Vancouver, Wash., doesn't have a real name. Known as the Interstate Bridge, the 98-year-old span is one of the most dangerous in the country. On the older northbound side, designed for Model Ts and horse carts rolling at 15 miles an hour, cars and 18-wheelers share three narrow lanes. Its humped roadway blocks drivers from seeing trouble ahead, and one section frequently lifts to let boats pass below, halting traffic. There are no shoulders. Last May, Rosemary Krystofiak, a retiree from Nevada visiting her son in Portland, stopped in a line of cars during a lift. Another driver slammed into her Jeep Grand Cherokee. The impact fractured Krystofiak's vertebrae. "I thought I was going to die," she says.


The day after her accident, the two-state agency that was supposed to shepherd a $3.2 billion replacement project starting in 2014 shut down. After spending $200 million in state and federal money on surveys and designs, lawmakers in Oregon and Washington scuttled the proposed Columbia River Crossing, a project backed by the governors of both states. Its failure was the work of Tea Party conservatives who opposed the light-rail extension planners tacked on to the project and of left-wing environmentalists who hate the idea of investing in roads.
It also reflects the inability of the Obama administration to influence state legislators when it comes to replacing crucial national infrastructure. Shoddy infrastructure will cost U.S. businesses $1.2 trillion by 2020, according to the American Society of Civil Engineers.
Republican lawmakers in Washington state spurned $1.25 billion in federal funding and publicly rebuked Obama's transportation secretary, Illinois Republican Ray LaHood, when he flew there in April 2013 to court their support. "Obviously people without much vision," LaHood says of the state legislators who turned him down. Now, he says, it will be at least a decade before a replacement for the Interstate Bridge is built. "That's what it took to get to the point we were at with the current concept," says LaHood, who left the post in 2013 and is now an adviser at Meridiam, an asset management company that invests in infrastructure projects.
The northbound span, which opened in 1917, has one of the lowest sufficiency ratings of any U.S. highway bridge with daily traffic of more than 50,000 vehicles, according to the Federal Highway Administration's National Bridge Inventory. The rating, based on factors including structural condition, average traffic, and road width, was 28th-lowest among 18,984 such bridges in 2013. Including a southbound span built in 1958, the Interstate Bridge carries 130,000 vehicles a day.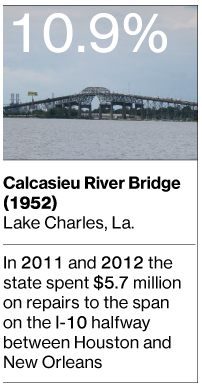 In October, Oregon's chief bridge engineer, Bruce Johnson, sent a letter to Washington state transportation officials laying out the costs of maintaining the status quo: $600 million to bring the bridge to current seismic standards, $150 million to replace the 25-year-old road decks, $75 million to paint it. At a minimum, the lift shafts, rollers, and rusted bearings need replacing, and cracks in the deck have to be patched. Those fixes alone could cost more than $12 million, Johnson says.
Backers of the new bridge design say it would reduce accidents by 70 percent and add $230 million to local wages. The double-deck structure has 10 lanes, rather than six, and wide shoulders. It includes lanes for pedestrians and cyclists, as well as tracks for extending Portland's light rail across the water. "You can have deer and bald eagles, that's all wonderful," says Scot Walstra, a development official in Washington's Cowlitz County who backs replacing the bridge. "If you can't move goods and you can't get to work in a timely fashion, you send the signal that you're not serious about economic development."
Yet for Republican leaders in conservative Clark County, where Vancouver is located, teaming up with the Obama administration and Democrats in Oregon's state government on a project that included a public-transit element was a political nonstarter. "Light rail is not a transportation solution, but a political ideology designed to change people's behaviors, reduce freedom of movement, and expand the size of government," Washington state Representative Liz Pike, a Republican from Clark County, said last February. A Clark County commissioner named David Madore, who won his seat in 2012 by campaigning against the new bridge, hired a forensic accountant who said contractors were feasting on inflated bids, prompting state authorities to investigate the project's finances. "There are proverbs that guide," says Madore, a Christian who wears an American flag pin shaped like a cross. " 'The borrower is slave to the lender,' that's a very foundational one." In 2014, Washington's state auditor reported $1.7 million in "excess or higher-than-typical" costs in the planning phase.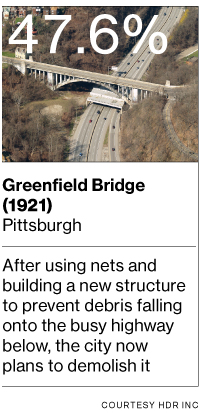 By then the Republican-led Washington state senate had already failed to commit to the project. Oregon's Democratic-controlled legislature, which committed $450 million to the project, considered building the project alone, but abandoned the idea partly because of opposition from anticar environmentalists in Portland, who dismissed the Columbia River Crossing project as a throwback to the freeway-crazed 1950s. In 2012 two environmental groups sued the U.S. Department of Transportation, saying the bridge project would increase air pollution and endanger salmon and other river species. Last March a federal judge stayed the case for a year while politicians debated whether to move forward with the project at all. During Pedalpalooza, Portland's annual cycling festival, opponents handed out fliers, including one warning that the bridge was part of the "Global Free Trade infrastructure."
A 10-man crew working from a green shack hidden among the Interstate Bridge's steel trusses keeps the rusting hulk alive. Layers of grease coat the beams. Almost every January, crew member Mark Rousseau, a burly former trucker, fires propane cannons to scare off roosting starlings, a low-tech way to get rid of the birds, whose droppings corrode the bridge's moving parts. "This is home for me," says Rousseau, who is 62. "I don't want to have to look for another job until I retire." He doesn't seem to have much to worry about. In December, Washington's Democratic governor, Jay Inslee, proposed a comprehensive 12-year, $12 billion transportation plan. There was no money in it for a new interstate span.
BOTTOM LINE -
The bottom line: A critical bridge replacement backed by the Obama administration was killed by local opposition from both the left and right.
Before it's here, it's on the Bloomberg Terminal.
LEARN MORE