The Free-Speech Philosophies of Charlie Hebdo Staffers
Its journalists knew what they were fighting for—and knew the danger.
By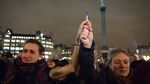 Staffers of Charlie Hebdo, the French satirical newspaper that was attacked Wednesday by masked gunmen, killing 12, including longtime editor Stéphane Charbonnier, often spoke of the anger their work aroused and how they thought about their role. Below is a short compendium of their quotations.
Stéphane Charbonnier
The New York Times, 2012:
Why should they prohibit these people from expressing themselves? We have the right to express ourselves, they have the right to express themselves, too.
Le Monde, via the Associated Press, 2013:
I'd rather die standing than live on my knees.
The Associated Press, 2012:
Muhammad isn't sacred to me. ... I don't blame Muslims for not laughing at our drawings. I live under French law. I don't live under Quranic law. ... I'm not the one going into the streets with stones and Kalashnikovs. ... We've had 1,000 issues and only three problems, all after front pages about radical Islam.
Gérard Biard
The New York Times, 2012:
We're a newspaper that respects French law. Now, if there's a law that is different in Kabul or Riyadh, we're not going to bother ourselves with respecting it. ... We're a newspaper against religions as soon as they enter into the political and public realm. You're not meant to identify yourself through a religion, in any case not in a secular state.
Laurent Léger
BFM-TV via CNN, 2012:
The aim is to laugh. We want to laugh at the extremists—every extremist. They can be Muslim, Jewish, Catholic. Everyone can be religious, but extremist thoughts and acts we cannot accept.
CNN, 2012:
In France, we always have the right to write and draw. And if some people are not happy with this, they can sue us, and we can defend ourselves. That's democracy. You don't throw bombs, you discuss, you debate. But you don't act violently. We have to stand and resist pressure from extremism.