The Free-Speech Philosophies of Charlie Hebdo Staffers
Its journalists knew what they were fighting for—and knew the danger.
By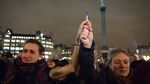 Staffers of Charlie Hebdo, the French satirical newspaper that was attacked Wednesday by masked gunmen, killing 12, including longtime editor Stéphane Charbonnier, often spoke of the anger their work aroused and how they thought about their role. Below is a short compendium of their quotations.