My CES Experiment: Living With Three Smartwatches at Once
Ian King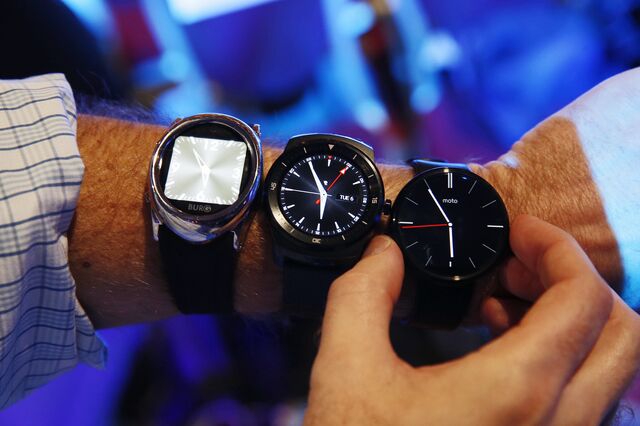 A day into the Consumer Electronics Show, it seems everyone has a smartwatch. That includes me, after my editors challenged me to wear as many of the gadgets as possible for the ultimate utility test.
That's why I've got three of the gizmos on at the same time: LG Electronics Inc.'s LG G Watch R, Motorola's Moto 360 and Burg's Burg 12. The devices, two of which are based on Google Inc.'s Android Wear operating system, are just a few of the review models being provided by companies at CES this week. Electronics makers are jockeying to get their wares out before Apple Inc. debuts its Apple Watch this year and potentially spoils the party.
Based on my experiment, I can see why not many people have smartwatches, many of which start at about $200. I'm part of just 10 percent of the U.S. population using a watch that does more than tell the time, according to Forrester Research Inc. The market is poised to accelerate, with 45 percent of people "intrigued by the prospect" of strapping on an Internet-connected watch that can give a peek at e-mail and display the weather, according to Forrester. Yet researcher Gartner Inc. projects that smart wristband shipments will drop to 19 million units worldwide in 2016 from 20 million last year.
"There are 569 wearable vendors," said J.P. Gownder, an analyst at Forrester, who's attending CES. "It's a period of creative disruption, and 80 percent to 90 percent are going to fail."
Pink Zone
Early in my tests, with two of the smartwatches on one wrist and one on the other, the only step forward the new models seem to have made over earlier versions I've tried is the addition of heart-rate monitors. The LG G Watch R's monitor is helping me track my growing frustration with the Moto 360 as I'm trying to get it to do something basic: tell the time.
The LG G Watch R's monitor shows my heart is beating at the high end of the pink zone -- it hasn't yet slipped into the red zone of danger -- when I discover one of the secrets of the Moto by accident. To see what time it is without pressing a button, you just lift up your wrist and look at the screen, as though you're pantomiming frustration with someone who's turned up late for an appointment.
That happy accident underscores a central issue with the current crop of smartwatches that use Google's Android Wear. While there are clever features that some engineers have invested time in developing that make sense in the lab or showroom, in the real world on the arm of someone who doesn't read instruction manuals for fun, the end result is usually irritation.
Emotional Gap
"We created the Moto 360 as a timepiece first and foremost and we've been very pleased with the results of that and very pleased with the response from consumers," said William Moss, a spokesman for Motorola.
An LG representative didn't return a request for comment.
The other smartwatch I have on, a Burg 12 from a company named for its owner and chief designer, Hermen van den Burg, is focused on solving another problem facing smartwatches. That, according to Burg's marketing head, Steven Jay, is the failure to "bridge the emotional gap" with consumers who buy watches for their looks first.
The massive Burg 12, which is based on the company's own software, is certainly stylish. The flipside is that it doesn't work easily. Navigating the menus requires a tiny stylus hidden in the strap. I showed the Burg to Jim McGregor, an analyst at Tirias Research, who was impressed by the sleek design until I pulled out the stylus and started pecking at the screen.
"No," McGregor said.
Guatemala's Weather
Jay said Burg is planning to debut a new watch at CES that will make the 12 look like a dinosaur. The company is aware that the 12 needs to be replaced by one working on Android Wear, he said.
I found some uses for the Moto and LG smartwatches. Speaking "OK, Google" to them sets things in motion for limited instructions like "what time is it?" Asking "what's the weather like in Guatemala?" yielded an almost instant answer of 63 degrees Fahrenheit (17 degrees Celsius) and cloudy.
The watches are also good for times when you've hidden your phone on mute, not daring to check a call or message in front of the boss. They show enough of the message or who's calling so you can decide whether to get out the phone with just a surreptitious glance. And the Amazon.com Inc. shopping application was fast and accurate.
Later in the evening, I attended an event at the Mirage Hotel in a swanky suite the staff told us has been used by Brad Pitt and Angelina Jolie. In the high-walled private garden containing a putting green, jacuzzi and private pool, I felt the need to show some style. Yet pulling back my cuffs to display the multiple wristbands provoked more looks of pity than envy.
At least Google's software is democratic -- and sometimes amusing. When I Googled Moto 360 on the device itself, it pulled up reviews recommending another smartwatch.
Before it's here, it's on the Bloomberg Terminal.
LEARN MORE