Elizabeth Warren Launches Social Media Attack on GOP
On Facebook and Twitter, the Democrat offers red meat to her base.
Annie Linskey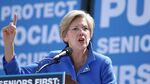 Massachusetts Senator Elizabeth Warren is ready for battle.
In a preview of the fights to be waged with the GOP over the coming months, Warren turned to social media on Tuesday to blast House Republicans for making a "ridiculous" move that "threatens" Social Security just hours after she started a new phase of her career as a member of the Senate's minority party. 
On her Facebook page, Warren linked to a report from the Center on Budget and Policy Priorities that spelled out how a rule the House of Representatives approved could cause a "sudden, one-fifth cut" in benefits to those who rely on disability insurance. The legislation she was referring to would prevent fund transfers from the Social Security Trust Fund to the Disability Trust Fund, a maneuver that the CBPP said has occurred frequently in the past with little controversy. Still, the post had racked up more than 18,000 likes and nearly 8,000 shares on the social network as of Wednesday evening. 
Keeping her national army of supporters interested and engaged will be part of Warren's challenge over the next two years—particularly if the economy continues to improve, and if the Democratic leadership becomes more willing to compromise with Republicans to get some legislation passed in President Barack Obama's final two years in office. Threats to the entitlement programs are red meat to Warren's base, and a key part of her message that "Washington insiders" are looking for opportunities to dismantle traditional middle class protections. 
"We can't turn our backs on the promises we've made to our families, friends, and neighbors who need our help the most," Warren wrote on a Facebook post. She also tweeted out the following messages to her 142,000 followers: 
It's not clear how much further Warren's going to take this particular fight. She wasn't upset enough about the legislation to bring it up this morning when she keynoted the AFL-CIO National Summit on Raising Wages in Washington. In her roughly 30 minute speech she only mentioned the words "social security" once and instead stuck to familiar themes: Big banks should be broken up, the system is rigged and student loan interest rates have gotten out of hand. 
As her reach continues to grow on social media, however, it seems that she has a handy and powerful weapon to use against the GOP at a moment's notice.