Elite Security Guard Couldn't Save French Cartoonists Killed
Helene Fouquet and Cécile Daurat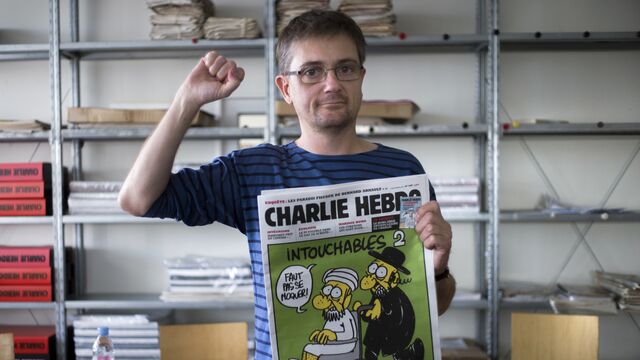 The last cartoon that journalist Charb published was captioned "Still No Attacks In France… Wait! We still have until the end of January for New Year's wishes." It was published today, shortly before he was killed.
Stephane Charbonnier, known by his pen name, died with 11 others at the headquarters of Charlie Hebdo, the weekly satirical newspaper where he was editor-in-chief. He was 47.
Sitting near him in the newsroom during the editorial meeting was his personal security guard, an officer from the Interior Ministry's special unit for threatened personalities. That man was killed as well; his name wasn't released.
Charb had been under police protection since 2011, when Charlie Hebdo published a special edition called "Charia Hebdo" featuring Muhammad as a "guest editor." The cover depicted the prophet threatening readers with "100 lashes if you don't die of laughter." Shortly thereafter, Charlie Hebdo's Paris offices were firebombed in an overnight attack that caused no injuries.
There's no easy way to describe to non-French readers what the left-wing, anti-establishment weekly Charlie Hebdo is about. Its satire has no limit. Religions (all of them), sexuality, death, politicians: Nothing and no one is off-limit. But in France, whether you read Charlie Hebdo or not, you could immediately recognize the style of some of the prolific cartoonists who were killed in the shootings. Like Charb, they were known by their pen names: Cabu, Wolinski, Tignous.
Cabu, Wolinski
Cabu was a household name. His caricatures and comic strips amused generations of French people who saw his work in numerous publications over the past 40 years. Some were satirical, like Charlie Hebdo, but many others were not, like the national daily Le Monde.
The generation born in the 1960s grew up watching him draw caricatures live on television in a popular children's program in the 1970s. His mean-spirited, misogynist comic-strip character le Beauf, an abbreviation of brother-in-law, became a common name.
Cabu, born Jean Cabut in January 1938, published his first illustrations at 16, according to Le Monde, which called him a giant in the cartoonist genre. In 2006, a Cabu cartoon appeared on the cover of Charlie Hebdo in response to the controversy over the publication of images of the Prophet Muhammad sketched by a Danish cartoonist. The caption that accompanied Cabu's prophet read: "It's hard to be loved by jerks." Cabu, who still looked boyish with a pageboy haircut and round glasses, would have turned 77 next week.
Caustic Humor
Georges Wolinski, the former editor-in-chief of Charlie Hebdo, was "an erotomane and a pessimist," Le Monde newspaper wrote. Known for his caustic humor and his provocative cartoons spoofing presidents, women and sexuality, Wolinski inspired generations of French cartoonists.
Wolinski was born in 1934 in Tunis, then part of French Tunisia. He started contributing erotic and political cartoons in the 1960s to the satirical publication Hara-Kiri, but like Cabu also published in periodicals that were read by the general public, including Paris-Match and the left-wing daily Liberation.
"I am a press cartoonist above all, a chronicler of the news, of politics, of the times," Wolinski said. He was 80.
Bernard Verlhac, known as Tignous, was born in 1957. His cartoons were regularly published in Charlie Hebdo. His drawings covered a wide range of topics, from French soccer players meddling with under-age prostitutes to the notion of blasphemy and the Arab Spring uprisings.
"Caricature is a witness of democracy," he said in a 2012 interview.
Charlie Hebdo moved into new headquarters, in the 11th arrondissement of Paris, on the quiet rue Nicolas Appert.
That's where the two attackers entered the newsroom around 11:30 a.m., rushed in the second floor newsroom and randomly shot the journalists, the police officer and a guest attending the editorial meeting. They used AK-47 semi-automatic rifles.
In a 2012 interview with Morocco's magazine Tel Quel, Charb said, "I am an atheist, not an Islamophobe." Charb said he wasn't afraid of retaliation. "I have no kids, no wife, no car, no mortgage. It sounds pompous, but I prefer to die standing than on my knees."
Before it's here, it's on the Bloomberg Terminal.
LEARN MORE