Blast Hits Yemen Police Academy, Killing Dozens
Mohammed Hatem and Nafeesa Syeed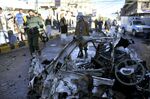 A bombing killed dozens of people at the police academy in Yemen's capital today, targeting Houthi Shiite rebels seeking to consolidate their power in the nation.
Yemen's Interior Ministry said at least 35 people were killed and 68 injured in the bombing in Sana'a. About 300 students were at the academy, according to a security official, who asked not to be identified because he wasn't authorized to speak publicly. The final death toll is still being determined.
"The blast was huge and my house was shaking," Zaid Ali, a witness, said by phone. "It was totally chaotic." The bomb was detonated in a vehicle parked near the college, official news agency Saba reported, citing police.
The academy is controlled by the Houthis, who seized Sana'a last year after advancing from their northern base and forced President Abdurabuh Mansur Hadi to form a new government. Members of the Sunni Al-Qaeda and its tribal allies have stepped up attacks on the Shiite fighters, raising the prospect of the state's collapse along sectarian lines and alarming neighbor Saudi Arabia.
"The more the Houthis continue to weaken the state, the more they give al-Qaeda the chance to flourish and boost its position," Majed al-Mathhaji, an independent analyst in Sana'a, said in an interview before today's attack.
Sunni Discrimination
While there was no immediate claim of responsibility for the strike on the police academy, Al-Qaeda said it carried out more than 60 attacks, mostly against the Houthis, in December, according to a tally by Bloomberg. An explosion on Dec. 31 killed 23 people at a Houthi celebration in the central province of Ibb.
Insecurity in Yemen has spiraled since popular unrest drove President Ali Abdullah Saleh from power in 2011. His successor Hadi, installed under a peace plan backed by Saudi Arabia and its Sunni allies, struggled to restore order in the nation of 25 million.
The Houthis, who follow a branch of Shiite Islam called Zaidi, have said they are seeking to root out corruption and end decades of discrimination by Yemen's Sunni majority.
Since taking Sana'a, the group has sought to consolidate its grip by integrating supporters into the army and security forces, and keeping key ministries and the central bank under guard. Houthi fighters have also taken control of Yemen's second-largest port on the Red Sea and a crossing post on the Saudi border.
'Turning Point'
Abdulmalik al-Ejri, a member of the Houthis' political council, said in a phone interview on Dec. 31 that the group's territorial expansion is meant to push back al-Qaeda after the state failed to confront the militants.
Those gains are now being challenged and amid the violence sectarian lines are hardening, with the Houthis losing support among Yemenis who initially tolerated them, according to Danya Greenfield, a Yemen specialist at the Atlantic Council in Washington.
"This is definitely a real turning point," Greenfield said of the string of anti-Houthi attacks. "There is going to be a long bloodletting back and forth in trying to define who has the upper hand."
The Houthis, who last month rejected a draft constitution dividing Yemen into six federal states, have publicly set their sights on Marib, a region rich in oil and gas. Yet local tribes there have vowed to confront them and opponents in the southern city of Taiz have also held anti-Houthi protests.
The Houthis may find further conquests difficult, Charles Schmitz, a professor who studies Yemen at Towson University in Baltimore, Maryland, said.
"I think they've lost their momentum," Schmitz said by phone yesterday. "Now they have to work out how they're going to relate to the Yemeni state."
Before it's here, it's on the Bloomberg Terminal.
LEARN MORE