Sirisena Calls for Peace After Surprise Sri Lanka Victory
Bloomberg News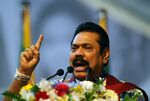 Incoming Sri Lanka leader Maithripala Sirisena called for peace after ending the 10-year rule of Mahinda Rajapaksa, who conceded defeat today in a result that seemed improbable only two months ago.
"I call on all my supporters and those who helped me along my campaign to enjoy this victory peacefully and to act with restraint," Sirisena told reporters at the elections commission's office after he was declared the winner. "I thank the commission and police for ensuring it was a free and fair election."
Stocks rose to the highest level in about four years after Rajapaksa, 69, indicated he'd transfer power peacefully. Sirisena, 63, deserted the president's camp in a surprise announcement two months ago to head the opposition bloc.
The outcome threatens to bring instability to an emerging market that has seen some of the world's highest economic growth rates and curb the influence of China, which had become Sri Lanka's biggest investor under Rajapaksa's rule. His push to amass more power after overseeing the end of a 26-year civil war backfired, with a disparate opposition uniting to oust him.
"It's a moment of truth and marks a significant change in favor of democracy in Sri Lanka," Jayadeva Uyangoda, a political science professor at the University of Colombo, said by phone. "People have taken a courageous stand, particularly the minorities, to vote out a very strong and powerful president, who thought himself an invincible ruler."
Stocks Rise
The benchmark Colombo All-Share Index rose 1.3 percent as of 12:40 p.m. local time, poised for its highest close since March 2011. The Sri Lankan rupee was little changed.
"He wasn't expected to have a smooth transition to power," Murtaza Jafferjee, chief executive officer of Colombo-based JB Securities Pvt., told Bloomberg TV today, referring to Sirisena. "So it's a great day for this country."
Sirisena got 51.3 percent of the votes, while Rajapaksa garnered 47.6 percent, state-run Rupavahini television channel reported, citing official vote tallies.
Rajapaksa had called the election in November, two years ahead of schedule, after his party's popularity fell in recent by-elections.
"He has spoken to the opposition candidate and congratulated him and said he can take over," Rajapaksa's spokesman Mohan Samaranayake said by phone earlier.
Sirisena's coalition is comprised of "strange bedfellows" united by a desire to end Rajapaksa's rule, according to Romita Das, an analyst at Control Risks in Singapore.
'Period of Instability'
"The result will be a likely period of instability and uncertainty as each actor seeks to promote its own agenda," she said by e-mail. "As one would expect, such volatility will make doing business in Sri Lanka a trickier endeavor than ever."
Few incidents of violence took place during yesterday's vote, with election monitors saying turnout reached 80 percent in the most populated parts of the country. U.S. Secretary of State John Kerry hailed the candidates for ensuring a peaceful election and said he looks forward to working with Sirisena.
"We have guaranteed Rajapaksa and his family security," said Harsha de Silva, a lawmaker in the United National Party, the biggest in Sirisena's coalition.
Sirisena will be sworn in as president at 6 p.m. today, said Ranil Wickremesinghe, leader of the United National Party.
Sirisena gained the backing of more than 10 percent of ruling-party parliamentarians since resigning as health minister in November. His coalition had the support of the main groups representing Tamil and Muslim minorities, which account for about 30 percent of the island's 20.4 million people.
Rajapaksa had touted his record of economic development in asking voters to re-elect him. Sirisena pledged to end nepotism and corruption, ensure religious harmony and wean the nation away from a reliance on funding from China and other countries that he said "endangers" Sri Lanka's economic security.
China Ties
China has poured money into the island nation off India's southern coastline over the past decade to become its largest investor, top government lender and second-biggest trading partner. Chinese-funded projects include a $1.4 billion plan to build a city roughly the size of Monaco on reclaimed land in Colombo port. Sirisena vowed to scrap the project, which would be Sri Lanka's biggest foreign-funded investment on record.
"Sri Lanka would almost certainly rebalance its relations with the west and India vis-a-vis China," Sasha Riser-Kositsky, a Washington-based analyst at Eurasia Group who predicted the outcome, said by e-mail. "I would argue, however, that the difference would largely be in tone rather than in substance, with the possible exception of the port city project."
— With assistance by Anusha Ondaatjie, and Asantha Sirimanne
Before it's here, it's on the Bloomberg Terminal.
LEARN MORE