The Insane Price of ESPN's College Football Ratings Triumph
By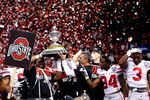 ESPN had a very happy new year, breaking its own record for the largest audience in cable-TV history twice on Jan. 1, thanks to college football's new playoff system.
Both semifinal games—Oregon's victory over Florida State and Ohio State's defeat of Alabama—drew more than 28 million viewers, topping the previous record of 27.3 million held by the BCS Championship game between Oregon and Auburn in 2011. ESPN now claims the top 18 largest audiences in cable history and will likely break its own record again on Jan. 12, when Oregon and Ohio State play in the first College Football Playoff National Championship.
These huge numbers, however, come at a steep cost for ESPN. In 2012, the network paid $7.3 billion over 12 years for the rights to the new championship game and the six bowl games that take turns hosting the two semifinals—an average annual cost of $608 million. Under the previous system, ESPN paid a combined $155 million per year for the Rose Bowl, the three BCS bowls, and the championship. Even if the national championship next week shatters previous records, the network's per-viewer costs are likely at least to double.
Last year's total viewership across the five marquee postseason college football games was 78.1 million, which comes out to a per-viewer cost of $1.98.

The six bowls leading up to this year's final have already drawn 86.9 million viewers.

So far, without including the audience for the championship, this year's cost per viewer stands at $6.99. For ESPN to match last year's cost of $1.98, next week's national championship would need to draw more than 220 million viewers for that one game. To put that in perspective: Last year's Super Bowl set the U.S. viewership record with 111.3 million.
If the audience for next week's game matches the 25.6 million who tuned in for last year's BCS title game, ESPN's seven-game total audience for the college postseason would hit 112.4 million—a per-viewer cost of $5.41. The Oregon-Ohio State showdown will probably do better than last year's championship, but even so, ESPN will almost certainly end up paying more than twice the price for each viewer that it did last year.
Yet the network will not blink at that higher price, especially with rates locked in for the next 12 years. ESPN has a history of paying a premium to move marquee sporting events onto the cable dial. It currently pays more than $8 per NFL viewer during the regular season, quadruple the rate of its network competitors. And it paid $100 million to carry the first NFL playoff game on cable last weekend, drawing 21.7 million viewers for the Carolina Panthers victory over the Arizona Cardinals (at a rate of $4.60 per viewer).
Over the past five years, ESPN has gone on what the New York Times called "one of the biggest shopping sprees in TV history," spending tens of billions for a decade's worth of rights to live sports. That investment leaves the network in a commanding position at a moment when the industry is in flux. On Monday, when Dish Network announced its $20-per-month streaming TV service, the big news was that ESPN was included. Buried in the deal, according to Recode, is "a clause that gives [ESPN] the ability to get out … if the service signs up a certain number of subscribers."
The clause speaks to ESPN's power in the market. No matter how viewers are getting their video programming a decade from now, they will have to come to ESPN if they want live sports. And one way or another, they will have to pay because ESPN already has.
Before it's here, it's on the Bloomberg Terminal.
LEARN MORE