Steve Scalise's Job is Safe, and the GOP Thinks It's Turned a Corner
Why the whip endured his David Duke scandal.
By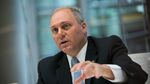 It probably said something about the pace of the modern news cycle that reporters finally got Josh Earnest to speak for the White House on the problems of Representative Steve Scalise of Louisiana–and it felt so late. Scalise was brought up by the AP's Julie Pace in the very first round of questions; she asked if the president believed Scalise should remain the GOP's majority whip in the House, given the news that he'd spoken to a 2002 meeting of a group founded by David Duke.