Jeb Bush Takes Another Step Toward Running
A new political action committee will let Bush raise money as he considers whether to run for president in 2016.
By and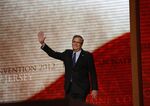 Former Florida Governor Jeb Bush on Tuesday launched a pair of political fundraising committees with similar names as he gauges his interest in his potential 2016 presidential campaign. 
The "Right to Rise" leadership political action committee and super-PAC will let him raise money as he gauges the interest in his potential 2016 presidential campaign.
In a video posted on Facebook, Bush said the Right to Rise PAC will be used "to support conservative candidates that believe in conservative principles to allow all Americans to rise up." Bush used Facebook last month to announce that he is "actively exploring" a presidential campaign. Since then, he has met with donors in Miami, Dallas, and Chicago and has meetings Wednesday in Greenwich, Conn., and Tuesday in New York, where he shot the video.
Bush on Tuesday also started the Right to Rise super-PAC, a committee that could raise unlimited sums of money from corporations, unions, associations and individuals, according to documents filed with the Federal Election Committee. The  treasurer is Charles Spies, who ran 2012 Republican nominee Mitt Romney's "Restore Our Future" super-PAC. Spies was also chief financial officer of Romney's 2008 presidential campaign and served similar roles for the Republican Governors Association and the Republican National Committee. 
The name and website are the first hint of how Bush, the son of one former president and brother of another, may try to focus the narrative of a potential campaign. "We believe the income gap is real, but that only conservative principles can solve it by removing the barriers to upward mobility," said a passage on the PAC's website. "We will celebrate success and risk-taking, protect liberty, cherish free enterprise, strengthen our national defense, embrace the energy revolution, fix our broken and obsolete immigration system, and give all children a better future by transforming our education system through choice, high standards and accountability. We will strive to put our fiscal house back in order, re-limit government and ensure that America is a welcoming society."
The PAC's treasurer is James Robinson, a Miami-based accountant who filled the same role for Bush gubernatorial campaigns in 1998 and 2002, according to a source with knowledge of the committee. The assistant treasurer will be Sal Purpura, who has filled similar roles for the presidential campaigns of Arizona Senator John McCain, Texas Governor Rick Perry and comedian Stephen Colbert, according to his LinkedIn profile.
Bush referenced the name of the PAC in an October 2013 speech at the Jack Kemp Foundation. "If you are born poor, you are more likely to stay poor and if you are born rich, you are more likely to stay wealthy than at any time in modern history," Bush said. "The [antidote] to this is to restore, as Paul Ryan coined it, the right to rise, the right to pursue economic opportunity and happiness. Jack Kemp discussed this charge in terms of advancing the universal values of the 'American idea' of growth, freedom, democracy and hope."
The phrase has also been used by Gabor Boritt, emeritus professor of history at Gettysburg College and expert on former President Abraham Lincoln, to describe the cornerstone of the 16th president's economic philosophy. "Tracing Lincoln's economic beliefs from the Illinois state legislature, where he championed waterway and railroad improvements, to the White House, Boritt found that Lincoln emphasized the individual's 'right to rise,' to use Boritt's own phrase," according to a biography of Boritt on the National Endowment of the Humanities website. "Lincoln, he said, saw the freedom of upward economic mobility (at first, primarily for whites) as an American ideal, as well as a force that could propel economic growth."
A leadership PAC serves as a rudimentary operation for presidential hopefuls and other high-profile politicians. Contributions are limited to $5,000 per giver. That money can be used to pay for PAC employees and expenses such as travel. The funds can also be disbursed to other candidates—a great way to win new friends. Other potential presidential contenders, including Senator Rand Paul of Kentucky and Perry, also have leadership PACs.
There was a quick burst of social media activity tied to the news of Bush's leadership PAC. On Twitter, Floridian Ana Navarro, the co-chair of the Hispanic Advisory Council for John McCain's 2008 campaign, wrote that she had "signed up to give all Americans the #righttorise." She also wrote that the PAC name reflected Abraham Lincoln's philosophy.
Bush also posted a Spanish-language video announcing the PAC on his Facebook page. "Hoy estamos lanzando el 'Right to Rise' PAC!"