Fed's Williams Sees No Reason to Rush With Rate Increases
Christopher Condon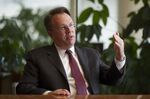 The Federal Reserve shouldn't raise interest rates too soon because the U.S. economy still needs the support of easy monetary policy, said John Williams, president of the San Francisco Fed.
"I see no reason whatsoever to rush to tightening," Williams told reporters today in Boston. "This is a U.S. economy that although doing a lot better, still needs monetary accommodation for above-trend growth." He added that he doesn't rule out tightening later in the year.
Most members of the policy-setting Federal Open Market Committee expect to begin raising rates for the first time since 2006 some time this year. Williams, who is a voting member of the FOMC this year, reiterated his view that mid-2015 was a reasonable starting point to think about liftoff.
Stocks fell and the euro slipped toward a nine-year low against the dollar amid concern Greece may depart the common currency bloc, and as the European Central Bank moves closer to more monetary stimulus while the Fed weighs raising rates.
Williams expects the Fed will move slowly. "My own view is the pace of tightening will be pretty gradual over the next few years once we start liftoff," he said.
He also anticipated divergence in monetary policies between the Fed, the Bank of Japan and the ECB will "create some turbulence" in financial markets.
The FOMC last month replaced a pledge it would hold rates low for a "considerable time" with an assurance it would be "patient," which Fed Chair Janet Yellen told reporters meant the central bank was unlikely to move before the end of April.
Strong Growth
U.S. growth reached a decade-high of 5 percent at an annual pace in the third quarter and the jobless rate has declined.
Still, inflation rose by 1.2 percent in November from a year earlier, well below the Fed's 2 percent target, which it has not reached since April 2012. Fed officials view sliding oil prices as a key reason for low inflation, and Yellen last month said she expects the impact to be temporary.
Williams, 52, said he wasn't concerned that weak energy prices will cause a significant drop in underlying inflation. Still, he would like to see more evidence that wages are ticking up, he said. The fact that current rates are close to zero provides another argument for patience, he said.
"We know that being at the zero lower bound complicates monetary policy," he said. "You don't want to be premature when you remove monetary stimulus because you'll end up regretting that if things work out worse than you hoped."
Williams also agreed with Yellen's view that the FOMC should avoid raising rates at a "measured pace," as it did at every meeting from June 2004 through June 2006.
"That language very quickly became something locking us into 25 basis-point increases at every meeting, and in fact you don't want to be locked in," he said.
Williams never dissented from an FOMC policy statement during eight meetings in 2012, the last time the San Francisco Fed president held a voting seat.
Before it's here, it's on the Bloomberg Terminal.
LEARN MORE