What's the Point of a Curved Smartphone?
LG's second-generation curved smartphone is nice and all, but is the shape necessary?
By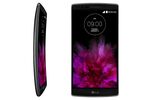 LG's first curved smartphone was, let's be honest, something of a disaster. It was too big, too curved, too expensive—and, given that the jury's still way out on curved displays in general, it didn't make much of a convincing case. But Korea's second-biggest electronics company isn't giving up, and on Monday morning it introduced the G Flex2, an indication that this is an actual direction for development and not a one-off novelty play.