HKEx Jumps on Report China's Li Backs Shenzhen Stock Link
Kana Nishizawa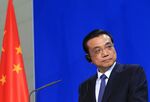 Hong Kong Exchanges & Clearing Ltd. jumped the most in a month after a report that Chinese Premier Li Keqiang said a stock link with Shenzhen should be established.
The new exchange program should follow the Hong Kong-Shanghai connect that began in November, Shenzhen Special Zone Daily reported on its tetimes.com website, citing Li during a visit to the city. Shares of Hong Kong Exchanges rose 2.5 percent to HK$177.30, the biggest advance since Dec. 8. The Shenzhen Composite Index extended gains to 1.5 percent, while the Hang Seng Index slid 0.6 percent.
"A Shenzhen-Hong Kong stock link will have a positive effect on HKEx in terms of turnover and profitability," said Sam Chi Yung, a strategist at Delta Asia Securities Ltd. in Hong Kong. "We still don't know the timetable of the program, but at least we know that China intends to launch it."
Shenzhen Special Zone Daily is the official newspaper of the Communist Party committee in the southern Chinese city.
The existing cross-border trading connect gives foreign money managers greater access to Shanghai-listed equities while allowing mainland investors a route to buy Hong Kong shares. The program usage has been slower than expected, with about 25 percent of the aggregate quota being used for Shanghai-listed shares, and less than 5 percent for Hong Kong stocks traded through the link.
The design of the stock link is scalable and replicable, and can be expanded to cover other markets or asset classes, Lorraine Chan, spokeswoman at Hong Kong Exchanges, said in an e-mail today. The bourse operator has "excellent working relationships with the Shenzhen exchange," and will inform the market if there are material developments, she said.
Before it's here, it's on the Bloomberg Terminal.
LEARN MORE