German Savers Brace for $2.3 Trillion ECB Question on QE
Nicholas Comfort and Oliver Suess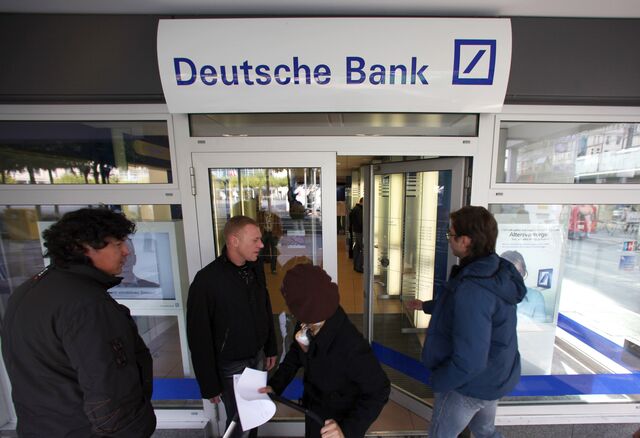 German savers face a tough question that's about to get tougher: Where to park their 1.95 trillion euros ($2.3 trillion) in cash and deposits as the European Central Bank whets its tools for more stimulus?
Pensioner Alois Weber has decided to leave his on the shelf. "It's better to be safe than sorry," said the 69-year-old resident of the southern German town of Schwaebisch Gmuend. "We have our money in savings certificates. I don't know what interest they pay exactly, but it's almost nothing."
German savers, who accounted for 17 percent of the euro area's 11.1 trillion euros of deposits by non-banks at the end of November, are already among the hardest hit by the ECB's record-low interest rates. Higher deposit rates seem a distant prospect as ECB President Mario Draghi weighs more radical steps such as buying government bonds to revive the economy.
After last year becoming the first major central bank to charge financial institutions to hold their cash, the ECB will consider sovereign-debt purchases this month in a bet that a flood of liquidity will help revive inflation and economic growth. The flip side is that central-bank action will depress near-zero yields on bank deposits and low-risk investments even further.
"It's not going to be an easy year for savers," Michael Seufert, an analyst at Norddeutsche Landesbank, said by phone from Hanover last week. "Germans are so conservative already that it's hard to imagine they can get any more so. The trend will have to be to go in for more risk."
Bank Charges
German consumers with 10,000 euros to deposit for three months can receive a 0.5 percent interest rate, according to the average of 104 offers compiled by Tagesgeldvergleich.net. The rates, which include introductory offers, range from 0.01 percent to 1.3 percent.
While Deutsche Bank AG and Commerzbank AG, Germany's largest lenders, aren't charging consumer clients for deposits, other banks have begun to do so. Deutsche Skatbank, a lender in the eastern state of Thuringia, said in late October that it would charge an annual 0.25 percent on some accounts.
The country's savings banks, which held the largest share of German deposits at the end of 2013 at 38 percent, won't charge consumer clients for deposits, according to Georg Fahrenschon, the president of the savings banks association.
Bond purchases will distort prices and make it harder for investors to demand adequate premiums for risk in fixed income markets and savers will foot the bill, Fahrenschon said in an interview in Berlin last month.
'Wrong Direction'
"If you're going in the wrong direction, it doesn't help to accelerate," he said. "The ECB is really at the end of the road."
Record-low interest rates can't revive the economy on their own and are detrimental to large sections of the population, Hans-Bernd Wolberg, the chief executive officer of German cooperative lender WGZ-Bank AG, said in an interview with Boersen-Zeitung last week. Consumers will ultimately feel the effect of the ECB's negative deposit rates for banks, he said.
In recognition of the opposition in Germany, the euro area's biggest and most populous economy, ECB officials have reached out to explain their position. Draghi, who seldom gives media interviews, told German newspaper Handelsblatt in an article published last week that he can't exclude the risk of deflation, or a spiral of declining prices and wages that causes households to postpone spending.
Inflation-Wary
ECB Vice President Vitor Constancio and Chief Economist Peter Praet have also given interviews to German media in the past few weeks citing the risk that the economy could deteriorate without further action.
The prospect of purchases has helped depress the interest investors stand to gain on European bonds. Last week, the yield on Germany's five year notes dropped below zero for the first time since Bloomberg began collecting the data in 1990, meaning investors buying the securities get less back than they paid when the debt matures. It was little changed at zero at 8:55 a.m. in Frankfurt today.
With the economic turmoil and hyperinflation of the 1920s that wiped out wealth and helped push the country into World War II still vivid in the folk memory, Germans remain wary of complex and risky financial products.
Industrial mechanic Jochen Schuett, a 37-year-old father of two, is pouring his into his house. "My money goes to pay the mortgage and I don't have to worry about investing as what's left over is not that much," he said. Investments in "very safe mutual funds" and some equities he purchased a decade ago "haven't lost in value at least. In hindsight, I could have left the money under my pillow as well."
Cash and deposits that German households held in the second quarter accounted for 39 percent of their total monetary assets, dwarfing the 503 billion euros of equities and 421 billion euros of mutual funds, according to Bundesbank data.
Risk Aversion
While Germans are increasingly unhappy with their investments, most still aren't ready to take risks to boost returns, according to the BdB association of German banks, which represents commercial lenders.
The share of Germans unwilling to invest in riskier assets rose to 67 percent last month from 63 percent in late 2013, according to a survey of 946 people conducted by GfK SE for the BdB last month. No margin of error was given.
"I'd rather invest in my small business," said Wassili Thoussiki, 53, a floor tiler of Greek heritage, in an interview last week. "People always need tiles. I bought a new van last year and plan to buy some new machinery next year. We plan to go back to Greece when we are pensioners. We have a house there."
Wolfgang Weber, 65, has just treated himself and his wife to a new car. "We'd rather spend it," he said. "We just bought a nice Fiat 500. We're thinking about getting new heating for our house and we need to get some stuff like showers fixed. So that's a good investment. And we spend more money for going on vacation. Last year we went to Greece, it was great. You need to enjoy life while you still can."
Before it's here, it's on the Bloomberg Terminal.
LEARN MORE