Dish Starts $20-a-Month Streaming TV With ESPN, TNT
Scott Moritz and Lucas Shaw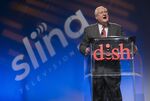 Dish Network Corp. unveiled the first major Internet-streaming television service from a cable or satellite company, a $20-a-month set of 12 channels that targets U.S. customers who don't want to pay for larger, more expensive TV packages.
Called Sling TV, the service offers live feeds of sports, news and scripted shows on TVs, computers and mobile devices and will start later this month, Dish announced today at the Consumer Electronics Show in Las Vegas. Walt Disney Co.'s ESPN, Time Warner Inc.'s TNT and CNN and others have agreed to supply cable channels.
Pay-TV companies experiencing little or no subscriber growth are being forced to offer products that aren't tied to the traditional TV bundle to compete with cheaper Internet-based services that have attracted younger customers. Netflix Inc. has more customers than any single cable or satellite operator, with 37 million U.S. subscribers for an on-demand streaming video service that costs $8.99 a month.
"This is a big moment symbolically," said Jan Dawson, an analyst with Jackdaw Research in Provo, Utah. "It's also indicative of the challenges in putting together a comprehensive online TV subscription. ESPN is a big get, but there are huge gaps in this offering, not least the broadcast channels, and so I'm not sure it's all that transformative just yet."
TBS, HGTV
Dish will limit viewing of Sling TV to one screen at a time and allow viewers to pause, rewind and fast forward live and on-demand programs, with as many as three days of viewing time. Sling TV won't require a service contract.
Live channels also include TBS, HGTV, Cartoon Network and Disney Channel. The package doesn't include a single broadcast network or the most-watched cable news channel, Fox News.
"We're not looking to replicate traditional pay TV over the Internet," Roger Lynch, the head of Sling TV, said during his presentation at CES. "That's a well-served market by Dish and other competitors. It's also a saturated market and frankly a declining market. We're going after the growth market, which is millennials."
Dish's partners on the programming side are also feeling pressure to appeal to younger consumers who don't subscribe to cable. Time Warner's HBO will offer an Internet-based version of the premium cable channel this year, and CBS Corp.'s Showtime Networks is planning a similar service.
Sony's Service
Sony Corp. may beat both HBO and Showtime to the punch. It plans to offer its Internet-based TV service, PlayStation Vue, in the first quarter of this year. That package contains more channels than Sling TV, including USA, FX, Discovery, MTV and Comedy Central.
Like those services, Sling TV will vie for consumer attention with Netflix, as well as traditional TV packages from Comcast Corp., DirecTV and Time Warner Cable Inc. The average bill for basic cable service plus the most popular cable channels costs $64 a month on average, according to a May report from the Federal Communications Commission.
While Sling TV is the first significant online service from a cable or satellite company, it isn't the first time pay-TV companies have dabbled with offerings for customers who don't pay for traditional TV. DirecTV last month unveiled Yaveo, a Spanish-language streaming service that costs $7.99 a month and doesn't require a DirecTV satellite subscription.
Dish will also offer add-on programming for $5 a month like Kids Extra, which features more Disney channels, and a package of more news channels. A Sport Extra package is also in the works.
Sports Offerings
"Sports is the one thing keeping many people on pay-TV services," said Dawson, the analyst at Jackdaw Research. "If they could get all their sports some other way, a lot of people would ditch cable and satellite packages and go with something like this, especially if it's high quality and reliable."
Dish is also exploring the possibility of a free or low-cost package funded through advertising, Dish Chief Executive Officer Joseph Clayton said in an interview last month in New York.
Dish, based in Englewood, Colorado, says the service will work best on Amazon Fire TV, Google Nexus Player, Roku, Xbox One, Macs and PCs. Dish also says some mobile devices running on supported versions of Apple iOS and Google Android will work with the service.
Before it's here, it's on the Bloomberg Terminal.
LEARN MORE