Brat Changes Mind, Will Oppose Boehner for Speaker
Conservatives get some of their heroes to oppose the leadership, in vain.
By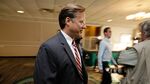 After he successfully primaried his party's House majority leader—the first time anyone had ever done that, in either party—Virginia Representative David Brat stopped trying to scare the establishment. He was nowhere to be seen when some in the party fought 2014's year-end spending bill. When the Hill's Cristina Marcos asked Brat whether he'd support John Boehner for speaker, Brat sounded fine with the idea.