politics
Brat Changes Mind, Will Oppose Boehner for Speaker
Conservatives get some of their heroes to oppose the leadership, in vain.
By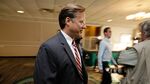 After he successfully primaried his party's House majority leader—the first time anyone had ever done that, in either party—Virginia Representative David Brat stopped trying to scare the establishment. He was nowhere to be seen when some in the party fought 2014's year-end spending bill. When the Hill's Cristina Marcos asked Brat whether he'd support John Boehner for speaker, Brat sounded fine with the idea.
"As of right now, yeah," Brat said in November. "I'm optimistic our leadership's going to move forward on the principles I ran on."
Since then, he's changed his mind. In a weekend op-ed for Breitbart.com, Brat revealed that while he "like[d] Speaker Boehner personally," he would not vote for him for speaker this week.
"The CRomnibus didn't just fund illegal amnesty," Brat explained. "It was a $1.1 trillion spending bill that did nothing to reduce spending or work toward balancing the budget. It also funded Obamacare when the House had pledged to repeal it. And it funded the economy-killing overregulation of agencies like the EPA, which are destroying American jobs when we have millions looking for work."
Brat's switcheroo was a big coup for the dump-Boehner campaign, which shrinks as it gets closer to the Capitol. Rank-and-file conservatives are dissatisfied with Boehner, according to one poll and according to the call volume to congressional offices—a phone campaign ginned up by talk radio. National groups like FreedomWorks have called on Boehner to go, though after a run of 2014 losses, the GOP's leadership takes them less seriously. And inside Congress, Texas Representative Louie Gohmert offering himself up as a replacement speaker is the sort of thing that members will roll their eyes about when the cameras turn away. (Gohmert, a former judge from deep-red east Texas, is more likely to wind up leading a Huffington Post story for a gaffe then leading a key committee.)
Brat's decision doesn't swing votes as much as it informs the right and the Tea Party that it's still relevant. Iowa Representative Steve King's promise to oppose Boehner has the same effect. They're surrogate votes for Mark Levin, Erick Erickson, Jenny Beth Martin, and the other outsiders who want at least some punishment for Republicans failing to block Obama's initiatives in 2014. And so far, more Republicans have announced their opposition to a third Boehner term than have called on Louisiana Representative Steve Scalise to resign. The actual numbers: Six and zero.
Before it's here, it's on the Bloomberg Terminal.
LEARN MORE