The Wooing of Mike Huckabee: How Conservative Pastors Got Their Man
The backstory to Huckabee's maybe-sort-of 2016 run.
By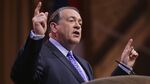 On Nov. 14, 2014, former Arkansas Governor Mike Huckabee stood inside the Auschwitz II–Birkenau prison camp and asked 18 fellow Christians to think about something unpleasant. They were on day three of "The Journey: A Spiritual Awakening," a 10-day trip from Poland to the United Kingdom to southern California, tracing the steps of Pope John Paul II, Margaret Thatcher, and Ronald Reagan. Organized by David Lane and the American Renewal Project, it brought influential activists and pastors with ties to Iowa politics together with Huckabee, who acted as an affable guide and host. And the prison camp had made him think.