politics
Huckabee Ends Fox Show As He Considers 2016 Bid
The Republican says he will make a decision on a campaign in late spring.
By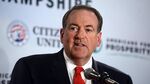 Former Arkansas Governor Mike Huckabee said Saturday he is ending his show on Fox News because he is not ready to rule out running for president in 2016.
"There has been a great deal of speculation as to whether I would run for president," the Republican said in a statement posted on his website. "If I were willing to absolutely rule that out, I could keep doing this show. But I can't make such a declaration."
"I won't make a decision about running until late in the spring of 2015, but the continued chatter has put Fox News into a position that is not fair to them nor is it possible for me to openly determine political and financial support to justify a race," he said.
Huckabee is the second potential Republican contender to sever business ties in recent weeks as he continues to weigh a bid. Former Florida Governor Jeb Bush said this week he was resigning from his positions on corporate and nonprofit boards as he "actively explores" a campaign.
After Huckabee's unsuccessful presidential campaign in 2008, the social conservative used his show in 2011 to say that he would forgo another try that cycle. 
But as Bloomberg Politics' John McCormick reported from Iowa in November, Huckabee has spent much of the past year doing "the things that would-be presidential candidates do: talking to party activists and donors, traveling extensively in support of 2014 congressional candidates, tossing money to some of them, and keeping his name in the mix. He's weighing whether his sunny style of social conservatism could be a good fit for a party that's showing every sign of having a wide-open–and crowded–2016 primary field. 'I'm getting a lot of encouragement from places where I didn't get it eight years ago, and that's encouraging to see and hear,' Huckabee said."
He tied for fourth place in a CNN/ORC International Republican primary poll of Americans in December, drawing 6 percent. Bush led with 23 percent in the poll, which excluded 2012 nominee Mitt Romney.
Huckabee also took fourth place in a Bloomberg Politics/Des Moines Register poll of likely Iowa Republican caucusgoers in October, with 9 percent. Romney was included in that poll and led with 17 percent. The Hawkeye State caucuses, which Huckabee won in 2008, will kick of the nominating race in 2016.
On Saturday's episode of Huckabee's show, which he said would be the last, he thanked his viewers and Fox staff, name-checking Fox News Channel Chairman Roger Ailes "for the past six and a half years of support" during the show's run. He said his departure means "walking away from a generous paycheck from Fox" and reminded viewers of the book he is set to release this month, "God, Guns, Grits, and Gravy."
"It has been the ride of a lifetime and I've never had so much fun in my life," he said.
Before it's here, it's on the Bloomberg Terminal.
LEARN MORE