South Korea Says Open to a 'Candid Discussion' With North Korea
Cynthia Kim and Sam Kim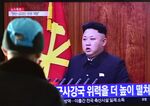 Any talks between the leaders of North Korea and South Korea must be held without preconditions, the government in Seoul said a day after Kim Jong Un raised the possibility of a summit.
"The government's stance is that we will talk to North Korea in a way that is free from formalities for candid discussion on all kinds of issues," Unification Ministry spokesman Lim Byeong Cheol said today at a briefing in Seoul. "If North Korea really has a will to improve inter-Korea relations it should hold talks without any preconditions."
North Korea's leader in his New Year speech flagged the potential for a meeting with South Korean President Park Geun Hye, even as relations remain chilled by his pursuit of a nuclear arsenal. The two have not held any prior summit.
"There is no reason why the highest-level talks cannot be held, depending on the mood and environment," Kim said in the speech broadcast yesterday on the Internet. "If South Korea truly wants talks and improvement in relations, the suspended high-level contact can resume and talks on specific matters can also be held."
Kim's comments are his first public response to Park saying last year she is open to a meeting with North Korea's leader. Unification Minister Ryoo Kihl Jae on Dec. 29 offered talks with the regime in Pyongyang and said he could take part in those discussions.
"Kim's clearly speaking about a summit whether it be in Seoul, Pyongyang or Moscow," Ahn Chan Il, who heads the World Institute for North Korea Studies in Seoul, said by phone. "The mood between the countries should grow conciliatory at least in the early part of this year."
Seoul Shares
The two countries haven't held a summit since 2007, when then-South Korean president Roh Moo Hyun met his North Korean counterpart Kim Jong Il.
Shares in Seoul-traded companies with operations in North Korea rose today after Kim's comments. Hyundai Merchant Marine Co., a shipping line whose affiliate owns a resort in the North, jumped 8 percent at 12:35 p.m. local time, advancing the most in two months.
Romanson Co. and Shinwon Corp., which have plants in the border city of Gaeseong, climbed more than 1 percent.
Russian President Vladimir Putin invited Kim to a May celebration to mark the 70th anniversary of the end of World War II, Russian press agency Itar-Tass quoted his spokesman Dmitry Peskov as saying Dec. 22. Park was also invited and hadn't decided yet whether to attend, Yonhap News said Dec. 20, quoting an unidentified presidential official.
Nuclear Program
Officials from China and South Korea's foreign and defense ministries will meet in Seoul on Jan. 5 to discuss issues including security on the Korean peninsula, South Korea's Foreign Ministry said today in an e-mailed statement.
North Korea's relations with South Korea are overshadowed by its refusal to abandon its nuclear arms program. No talks have taken place since their military generals gathered at a border village in October -- a meeting that did not produce any agreement.
Kim stepped up his saber rattling late last year, threatening to conduct the nation's fourth nuclear test after a United Nations human-rights committee voted in November to hold the regime accountable for crimes against humanity. The vote amounts to a "despicable ruckus," Kim said yesterday. His Foreign Ministry said last month the U.S. would face North Korea's "toughest counteraction" for the human rights criticism.
Power Purge
A group of top North Korean officials visited South Korea shortly before the October meeting of generals, a period when Kim's six-week absence from public view fanned a variety of theories from him suffering a gout-like illness to being overthrown.
Kim, who reappeared with a cane in mid-October, has no known child old enough to succeed him should he become incapacitated. He took over the country when his father Kim Jong Il died in late 2011.
Kim has purged high-ranking officials to consolidate his power, including having his uncle and deputy Jang Song Thaek executed in December 2013 on graft charges.
More than half the senior officials at Kim Jong Il's funeral have been purged or have retired, Kim Kap Sik, a researcher at the South Korean government-run Korea Institute for National Unification, said in a Dec. 24 report.
Kim's Sister
Kim Jong Un's sister Kim Yo Jong may become the first member of North Korea's ruling dynasty to visit South Korea, a South Korean newspaper reported last month, citing the organizers of a proposed food and arts festival in Seoul.
A South Korea-based business group with ties in North Korea submitted a proposal to the Unification Ministry for the March event, the Korea Economic Daily reported, citing the group. Kim Yo Jong is on the list of officials provided to the group by its North Korean counterparts, the newspaper said.
Before it's here, it's on the Bloomberg Terminal.
LEARN MORE