O'Malley Cements Progressive Legacy With Final Act
By commuting the death sentences of four prisoners, the governor sends another strong signal to some party activists.
Annie Linskey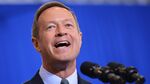 Governor Martin O'Malley commuted the sentences of the four remaining Maryland inmates on death row, a gesture in his final days in office that secures his legacy as one of the country's most progressive governors.
O'Malley, a Catholic, pushed legislation through the Maryland General Assembly in 2013 to end the death penalty. That new ban was for future cases, leaving the inmates still facing execution in a legal limbo. 
"In the final analysis, there is one truth that stands between and before all of us. That truth is this—few of us would ever wish for our children or grandchildren to kill another human being or to take part in the killing of another human being," said O'Malley in a statement on Wednesday. "The legislature has expressed this truth by abolishing the death penalty in Maryland. For these reasons, I intend to commute Maryland's four remaining death sentences to life without the possibility of parole."
O'Malley is eyeing a presidential run in 2016, though he hasn't gained much traction in the polls or among big Democratic donors. In speeches to Democratic activists around the country, he plays up his progressive credentials, including legislation he signed to legalize gay marriage, tighten gun control laws, allow in-state tuition for undocumented immigrants and abolish the death penalty. He has positioned himself to the left of former Secretary of State Hillary Clinton, which could appeal to the party's restive progressive wing. His standing, however, has been overshadowed by Massachusetts Senator Elizabeth Warren, even though she has said she isn't seeking the Democratic presidential nomination.
Maryland Attorney General Douglas Gansler, also a Democrat, issued an opinion in November saying the state couldn't develop new updated regulations for carrying out the death penalty since the punishment had been banned. The opinion didn't carry the force of a statute, but guaranteed additional legal wrangling over the status of the four on death row. Further complicating matters, O'Malley's replacement, Republican Larry Hogan, has said he opposes the penalty's repeal. 
O'Malley said he met or spoke with the victims of the convicts prior to commuting their sentences. "If endless death penalty appeals were to continue, these family members would, no doubt, persevere through that process with continued courage and fortitude. Of this I have no doubt," O'Malley said. "In my judgment, leaving these death sentences in place does not serve the public good of the people of Maryland—present or future."