Navalny Remains Defiant After Arrest at Anti-Putin Protest
Olga Tanas, Anton Doroshev and Henry Meyer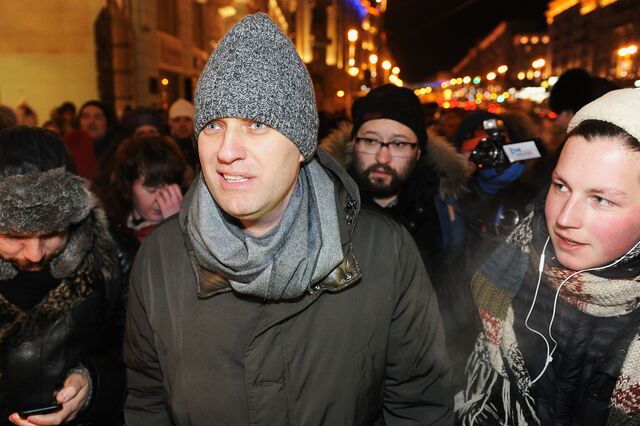 Russian opposition leader Alexey Navalny remains defiant after violating house arrest to reach a protest by the Kremlin, thumbing his nose at the system that spared him while locking up his brother.
The 38-year-old lawyer poked fun as policemen remained stationed outside his apartment after he was escorted home from the rally, saying on Twitter today: "They themselves don't know why they're standing there. Don't want water or tea."
Navalny was detained near the Ritz-Carlton hotel in central Moscow yesterday evening as he approached the hundreds of protesters who had gathered on Manezh Square. Earlier that day, he had yelled at the judge for a "filthy" decision designed to hurt him -- handing him a suspended sentence while condemning his younger brother, Oleg, to 3 1/2 years in prison for fraud and money-laundering.
"This isn't a simple path, and nothing will come easily," Navalny said by Twitter yesterday after thanking supporters for turning out. "But we have to follow it to the end. We have no other country."
President Vladimir Putin is staring down the threat of dissent at home as Russia's slides into the worst economic crisis since 2009. Efforts to mount a political challenge against him have faltered as the Russian leader enjoys near-record approval ratings after his annexation of Crimea from Ukraine, even as a slumping ruble undercuts incomes and ignites inflation.
'Martyr' Image
Officers dispersed the crowd of about 1,500 people on Manezh Square, by Red Square and the Kremlin, at about 9 p.m. yesterday. They detained at least 100, Interfax reported, citing the capital's police.
Giving Navalny a suspended sentence may have been designed to avoid making him a martyr and sparking major unrest, while imprisoning his brother puts pressure on him, according to Masha Lipman, a Moscow-based political analyst and visiting fellow at the European Council on Foreign Relations.
"With the prospect of socio-economic protests, the Kremlin doesn't want Navalny to become more of a leader," Lipman said by phone. "The image of a martyr, even if in jail, might give more impetus to such protests."
Blog, FireChat
Navalny said his blog at navalny.com hasn't been opening today and may have been blocked. Russia banned FireChat, an application used to help organize yesterday's protests after gaining popularity in Hong Kong, Taiwan and Iraq, Meduza.io, a Latvian-registered website run by Russian reporters, said late yesterday, citing a list of forbidden resources. The state communications watchdog didn't immediately respond to a request for comment.
Putin has cracked down on civil society and built up controls over social media as the economy weakens. The former KGB colonel has called the Internet the creation of U.S. intelligence and required popular bloggers to register, making them as liable for what they publish as the established media.
The U.S. condemned the ruling against Navalny and his brother as an attempt to "further punish and deter political activism," State Department spokesman Jeff Rathke said at a briefing in Washington. The European Union said the verdict looks "politically motivated," according to a statement on its website.
The Kremlin won't comment on the verdict, RIA Novosti reported yesterday, citing Putin spokesman Dmitry Peskov.
Chanting 'Freedom'
Some of the demonstrators, who gathered in freezing temperatures of minus 17 Celsius (1.4 Fahrenheit), chanted "freedom" as they were pushed away by cordons of police.
"I came because we must show there's a certain number of people unhappy with what's happening in the country," said Timur Vasyunin, a 30-year-old programmer. 'I'm disappointed there were so few people. I myself never went to these events before, but now is the time when it's necessary.''
If the goal was to quiet Navalny, the court may have failed, according to Lipman. While his brother is vulnerable in prison, Navalny's conduct "indicates that he won't bend to pressure."
Judge Elena Korobchenko of Moscow's Zamoskvoretsky District Court didn't explain why she handed down different sentences for Navalny and his brother, saying the legal reasoning will be given later. Both men have denied wrongdoing.
Kremlin Vulnerabilities
Navalny, an anti-corruption activist, was a leader in the 2011-2012 protests that saw hundreds of thousands take to the streets. He continues to agitate for the Russian ruler's overthrow, even though he's been kept out of the public eye and under house arrest since February.
He remains under house arrest until his sentence comes into effect, according to yesterday's court ruling. The defense team has filed an appeal, his lawyer Vadim Kobzev said today on Twitter.
"The Navalny trial's outcome is not a turning point for Russian politics," said Alexander Kliment, an analyst at New York-based research group Eurasia. "But it is an indicator of how the Kremlin perceives its priorities and vulnerabilities ahead of a year in which economic and geopolitical stresses will become much more acute."
Before it's here, it's on the Bloomberg Terminal.
LEARN MORE