Al-Shabaab Intelligence Head Killed in Drone Strike, U.S. Confirms
Mohamed Sheikh Nor and Larry Liebert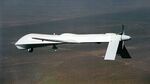 A U.S. drone strike in southern Somalia killed the intelligence chief of the Islamist militant group al-Shabaab three months after a similar attack eliminated the leader of the group linked to al-Qaeda, the Pentagon said.
The U.S. Defense Department in a statement today confirmed that Abdishakur Tahliil was killed Dec. 29 near Somalia's southern town of Saakow by unmanned aircraft that fired several Hellfire missiles at a vehicle carrying him. Somalia's National Intelligence and Security Agency, which reported the killing yesterday, said two other senior officials of the group also died in the attack.
Tahliil "was responsible for al-Shabaab's external operations," according to the Pentagon statement. "His death will significantly impact al-Shabaab's ability to conduct attacks against the government of the Federal Republic of Somalia, the Somali people, and U.S. allies and interests in the region."
The strike came three months after manned U.S. aircraft and drones killed Ahmed Abdi Godane, the leader of the al-Qaeda-linked militant group that has waged an insurgency against Somalia's government since 2006. The U.S. declared the militia a terrorist organization in 2008.
The attacks by the U.S. follow a series of military setbacks that al-Shabaab has suffered since African Union-backed Somali government troops pushed the militants to withdraw from the capital Mogadishu in August 2011. Since then, the army has forced the insurgents to relinquish control of about 70 percent of southern and central Somalia, according to the Somali government.
Last week, Zakariya Ismail Hersi, a senior al-Shabaab commander wanted by the U.S., surrendered to the Somali authorities. The U.S. State Department in 2012 offered a $3 million reward for information leading to the capture of Hersi, describing him as head of the group's intelligence.
While Xinhua reported that Somali security forces handed over Hersi to the authorities in neighboring Kenya, citing Adan Mohamed, a Somali security official, Somalia's intelligence agency said he is still in its hands.