Obama Speaks to Democrats' and His Future in NPR Interview
On the notion of opening a U.S. embassy in Iran, the president says: "I never say never."
By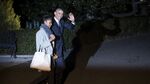 President Barack Obama addressed the new Congress, his party's prospects, and overseas turmoil in an NPR interview published Monday, saying vetoes may lie ahead as Republicans take over the Senate for his final two years in office and stopping short of ruling out a U.S. embassy in Iran.
"There are going to be some areas where we [he and Republicans] disagree and, you know, I haven't used the veto pen very often since I've been in office," Obama said, according to a transcript. "Now I suspect there are going to be some times where I've got to pull that pen out, and I'm going to defend gains that we've made in health care. I'm going to defend gains that we've made on environment and clean air and clean water."
Obama said immigration was an area where his differences with some Republicans are too great to overcome. Asked by "Morning Edition" host Steve Inskeep whether he could work with Republicans whom he considers "captive to nativist elements of the party," Obama said, "Well, on immigration, I probably can't. [Iowa Representative] Steve King and I fundamentally disagree on immigration."
But, Obama said, other Republicans recognize the need for comprehensive immigration reform—and he could stand to improve his relationships on the Hill. "I can always do better in every aspect of my job, and congressional relations isn't exempt from that," he said.
On Iran, Inskeep asked whether there was "any scenario under which you can envision, in your final two years, opening a U.S. embassy in Tehran" after recently moving to normalize relations with Cuba.
"I never say never, but I think these things have to go in steps," Obama said. "In order for us to, I think, open that aperture with respect to Iran, we have to get this nuclear issue resolved—and there's a chance to do it, and the question's going to be whether or not Iran is willing to seize it."
In an excerpt of the Dec. 18 interview released earlier, Obama said that despite recent tensions between police and minorities, the U.S. is "probably in its day-to-day interactions less racially divided."
After Democrats' losses in the November midterm elections, Obama said the party should be assuring "white working-class voters who haven't seen enough progress economically in their own lives" that it has their interests in mind. 
"The jobs that are out there are not ones that are traditionally jobs that, you know, blue-collar men aspire to," Obama said. "And, you know, we've got to speak to those concerns."
On Russia, he said, perceptions of President Vladimir Putin are changing as oil prices fall.
"You'll recall that three or four months ago, everybody in Washington was convinced that President Putin was a genius ... and today, you know, I'd sense that at least outside of Russia, maybe some people are thinking what Putin did [in Ukraine] wasn't so smart."
"They rely on oil," he said. "We rely on oil and iPads and movies and you name it."