Nigeria May Miss Cocoa Output Target as Disease Takes Toll
Tolani Awere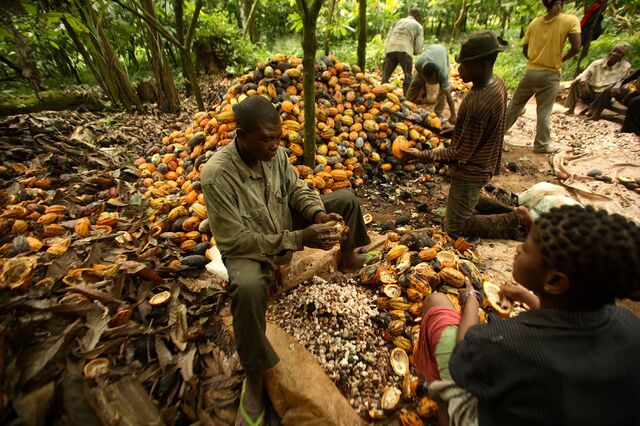 Nigeria may miss its cocoa output target of 500,000 metric tons in the 2014-15 season after an outbreak of fungal blackpod disease devastated farms following heavy rains, a farmers association said.
"The devastating effect of the excessive rains last August and September is now telling on the overall tonnage of cocoa beans harvested," Adeola Adegoke, coordinator of the Cocoa Farmers Association in the southwestern cocoa-growing Ondo state, said in a phone interview from the city of Akure on Dec. 24. "The season virtually ended in November. There are no more ripe cocoa pods on the trees to harvest."
Nigeria, the world's fourth-largest producer of the chocolate ingredient behind Ivory Coast, Ghana and Indonesia, set a target to produce at least 500,000 tons of cocoa by the end of the season running through September 2015 on account on newly maturing trees. The West African nation produced 350,000 tons of cocoa in the 2013-2014 season, according to the Agriculture Ministry. The International Cocoa Organization assessed Nigeria's production for that season at 240,000 tons.
Farmers from Nigeria's southwest region that accounts for two-thirds of the country's output, are reporting the absence of the "December cocoa harvest boom" that usually supplies 35 percent to 40 percent of output, according to Adegoke. "We lost this to the heavy rains," he said.
In the southeastern growing areas around the town of Ikom, which accounts for about 30 percent of Nigeria's output, there is less impact of blackpod disease and mold, according to Godwin Ugwu, a cocoa trader based in the town. The harvest in the region is expected to continue until the middle of January, he said by phone.
The West African nation's two cocoa harvests include the main crop from October to December, and the smaller light crop from April to June. Most of the country's output is from farmers working on small plots in the southern cocoa belt.
Cocoa futures in London have advanced 14 percent this year to 1,980 pounds ($3,081) a metric ton.
Before it's here, it's on the Bloomberg Terminal.
LEARN MORE