Some 3.6 Million People Are About to Get a Raise
By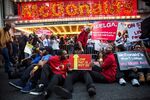 In his 2014 state of the union address, President Obama kicked off what could unofficially be dubbed the Year of the Minimum Wage. Just a year earlier, he had called for a $9 federal minimum, but there he was in early 2014, saying workers should earn at least $10.10 an hour. The shift shows how coordinated campaigns for higher wages, which started with fast-food workers and spread more broadly, raised expectations of what's considered fair compensation.
Obama's call to raise the federal minimum may have gone unanswered, but states and cities picked up the torch. In 2014, 13 states passed legislation or initiatives to raise the wage floor, not just in Democratic strongholds but in red states as well. Now the results of those campaigns are starting to come to fruition nationwide. About 3.6 million people will see their pay go up for the new year, according to an analysis of census data by the Economic Policy Institute (EPI), which supports higher minimum pay.
EPI's data show that more than 730,000 workers earn the minimum wage in the 13 states that passed new raises in 2014. About two-thirds of those workers will see their wages go up on Jan. 1, and the rest will see their pay increase later in 2015. EPI estimates that in those 13 states, an additional 675,000 workers who earn just above the minimum will likely also see some bump in 2015, as employers adjust their pay scale. That's more than 1.4 million workers with higher pay because of laws passed in 2014 alone.
Even more workers will see higher wages in January thanks to raises passed in previous years. Almost 1.5 million will see higher pay because their state's minimum wage indexes to inflation, which helps wages keep up with the rising costs of living. Another roughly 700,000 workers from New York will see a pay increase because of changes passed in 2013 that will increase minimum pay 9 percent.
In some states, minimum- or near-minimum-wage earners are a relatively small portion of the workforce, less than 7 percent. But in others, particularly those that passed new laws in 2014, low-wage earners are a large block. More than 11 percent of Rhode Island's workers will get a pay bump, as will 19 percent of Delaware's and almost 13 percent of West Virginia's.
EPI's numbers tally only changes at the state level. In 2014, much of the wage organizing was centered on cities, with such places as Seattle, San Francisco, and most recently, Louisville, setting higher pay. Pay in Washington, D.C., goes up by a dollar on July 1, to $10.50, which EPI estimates will affect about 100,000 workers. Wages in Oakland and San Francisco go up to $12.25 in March. Large employers in Seattle will need to start paying $11 in April, and in Chicago, minimum pay will rise to $10 in July.
When the small city of SeaTac, south of Seattle, raised its base pay to $15 in 2013, employers cried foul. But the Puget Sound Business Journal recently reported that one year later, the wage hike now elicits a mere "shoulder shrug." The hikes coming in 2015 will put that to the test on a much larger scale. Reuters reported that an internal McDonald's memo estimates the restaurant will need to adjust salaries at a third of its locations. With such nationwide changes, everyone from workers to the Federal Reserve will look to see whether higher minimum pay helps the economy shake off the stagnant wages that have plagued recovery.
Correction: This story's headline has been updated and this story has been updated throughout to reflect corrections made by EPI, which mistakenly based its calculations on the minimum wage in December 2013 instead of December 2014. That error overstated the number of workers paid at or near minimum wage in several states where wages increased in 2014.
Before it's here, it's on the Bloomberg Terminal.
LEARN MORE