Jeb Bush Resigning from Timber Company Board
Simon Casey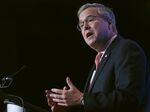 Former Florida Governor Jeb Bush will resign as director of timber company Rayonier Inc., two weeks after saying he may run for the Republican presidential nomination in 2016.
Bush will step down from the Rayonier board effective Dec. 31, the Jacksonville, Florida-based company said today in a filing. He was elected as a director in 2008.
Bush, 61, is the brother of former President George W. Bush and the son of former President George H. W. Bush. In a Dec. 16 statement posted on Facebook, Jeb Bush said he decided to "actively explore the possibility of running for President." He will also give up his role as a senior adviser at Barclays Plc, a person with knowledge of the matter said Dec. 18.
Rayonier owns, leases or manages about 2.6 million acres of forests in the U.S. and New Zealand, according to its website.