The Best Political Twitter Fights of 2014
The year in rants, feuds, unflattering BuzzFeed profiles and subtweets.
By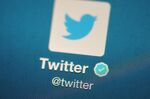 At the center of every good political feud is the sense that the participants are being more than a little petty and immature. Politicians (and their staffers) are generally guarded, scripted, and boring, but when David Axelrod subtweets Hillary Clinton or Rand Paul tweets that Marco Rubio wants to build a moat, it's the political equivalent of a pretty good episode of The Real Housewives.