Jeb Bush Leads The Republican Pack, Poll Finds
The former Florida governor would start his bid for the White House with a comfortable head start, according to the survey.
By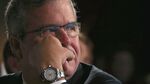 In a couple days, Jeb Bush will toast the new year with a hefty lead in the 2016 presidential horserace.
A CNN/ORC poll released Sunday shows the former Florida governor as the clear frontrunner for his party's nomination, with 23 percent support among Republicans across the country.
That's a significant margin over other potential GOP candidates eyeing the field, including New Jersey Governor Chris Christie, who received 13 percent support among Republicans. Conservative speaker Ben Carson came in third with 7 percent, with former Arkansas Governor Mike Huckabee and Senator Rand Paul of Kentucky close behind, pulling 6 percent apiece. All other potential candidates received 5 percent or less.
The national survey, conducted Dec. 18-21, polled 1,011 adults, of which more than 450 identified as or leaned Republican. That GOP subset had a margin of sampling error of plus or minus 4.5 percentage points.
The numbers suggest a dramatic uptick in Bush's standings since his announcement earlier this month about "actively" exploring a run for the White House that his father and brother once occupied. A similar CNN/ORC survey in November showed Bush leading Christie 14 percent to 9 percent.
Despite signals that his campaign is already mounting, Bush has said he will make a final decision on whether to enter the race next year.
It is still unclear how much Bush's dominance will impact other candidates in what is expected to be a crowded Republican field. Other CNN poll results on Sunday showed that issues like comprehensive immigration reform and national Common Core school standards, both of which Bush supports, will not sit well with some in the Republican base. But it may not be as big of an obstacle as some expect. 
When asked about Bush's support for Common Core, 38 percent of Republicans said it made them less likely to vote for him, while 59 percent said it either made no difference or made them more likely to back him. When asked about comments Bush made describing undocumented immigrants' decision to enter the United States illegally as an "act of love" for their families, 42 percent said it made them less likely to support Bush, while 58 percent said it either made no difference or made them more likely to support his candidacy.