Italy, Greek Rescue Teams Struggle to Evacuate Ferry
Dan Liefgreen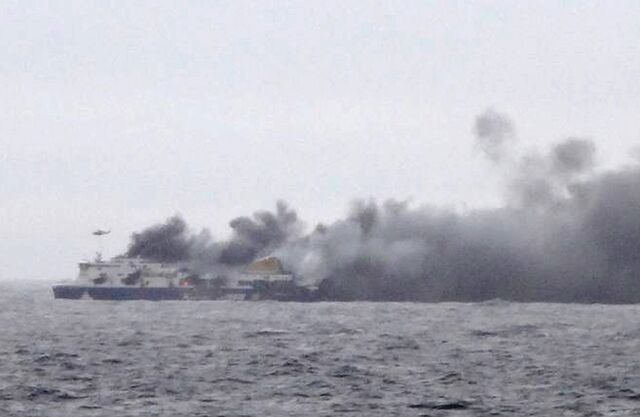 Italian and Greek rescue teams, battling high winds and rough seas, struggled to evacuate passengers aboard a ferry that caught fire off the Greek island of Corfu early today.
The Italian Navy and Coast Guard were coordinating the operation in the strait between Italy and Albania. The blaze broke out about 4 a.m. aboard the Italian-flagged ferry Norman Atlantic, Greek Shipping Minister Miltiadis Varvitsiotis said in a statement on the ministry's website. It was traveling from the Greek port of Patras to Ancona, Italy, with 422 passengers and 56 crew members on board.
Varvitsiotis said in a press conference at 8:20 p.m. in Athens that one person died while trying to flee the boat, while two more were injured. In total, 165 passengers have been brought to safety, he said.
A tug boat has docked with the ferry, according to a Twitter posting from the Italian prime minister's office. Italian television stations showed smoke billowing from the vessel and many of the passengers still aboard the ferry are on the deck, according to news RAINews24.
Italian Defense Minister Roberta Pinotti said helicopters would continue rescue operations through the night. "It's going to be a long and difficult night," Varvitsiotis said in comments broacast live on Greece's Alpha TV.
Greek Prime Minister Antonis Samaras was in contact with his Italian counterpart, Matteo Renzi, the latter said in a Twitter posting earlier today.
Before it's here, it's on the Bloomberg Terminal.
LEARN MORE