Emerging-Market Distressed Debt Loss Worst Since 2008
David Yong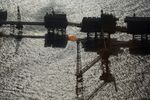 Emerging-market distressed debt losses are the worst this month since the global financial crisis.
Bank of America Merrill Lynch's Distressed Emerging Markets Corporate Plus Index fell 13.4 percent through Dec. 26, set for its worst performance since October 2008, as a tumble in the price of oil sparked a currency crisis in Russia. That brought this year's decline to 19.7 percent, the most in six years. High-yield distressed securities in the U.S. lost 8 percent, the indexes show. Emerging markets accounted for 14 of the 56 global defaults this year in Standard & Poor's coverage.
Crude reached the lowest in five years earlier this month and is heading for its largest annual decline since 2008 as members of the Organization of Petroleum Exporting Countries resist production cuts to defend market share. A supply glut has also pushed metal and coal prices deeper into a bear market.
"With many moving parts to the equation, could there be a point where investors begin to interpret the circumstances as contagion?" said David Tawil, co-founder of New York-based Maglan Capital LP. "What happens if we need to add Venezuela and Russia to the mix? Contagion is good for no one."
Oil accounts for 95 percent of Venezuela's exports and its government bonds have suffered as President Nicolas Maduro said he has no plans to curb fuel subsidies. Economic sanctions are also hurting Russia, pushing the country toward a recession, while corruption probes induced bond losses in Brazil and China. In Indonesia, the Bakrie family group of companies put its coal unit, PT Bumi Resources, under court protection.
Capital Injections
The ruble has weakened 37 percent this half, the worst among 24 emerging market currencies tracked by Bloomberg. Russia has pledged funds for lenders including OAO Gazprombank and VTB Group to shore up capital as the central bank said Dec. 16 the economy may shrink as much as 4.7 percent if oil averages $60 a barrel over the coming 12 months.
ZAO Russian Standard Bank's 10.75 percent 2018 notes are down 51.6 percent this month while OAO Promzvyazbank's 10.2 percent 2019 bonds have lost 18.9 percent. Gazprombank's dollar-denominated notes, while not part of the Bank of America Merrill Lynch index, are trading near distressed levels. Its 7.875 percent perpetual debentures, sold to investors at par in October 2012, touched 49.5 cents on the dollar on Dec. 16.
Such levels don't necessarily mean the debt's worth buying, according to Peter Schottmueller, who helps manages $17 billion as head of emerging market debt in Frankfurt at Deka Investment GmbH.
Fallen Angels
"It's not worth picking up fallen angels just because their bonds have become cheap," Schottmueller said. "I wouldn't touch commodity-related stuff and I don't expect any significant turnaround for Russia and Ukraine."
Among December's worst performers, the 8.25 percent 2019 bonds of OAS SA declined 12.38 cents to 34.25 cents Dec. 26. The Sao Paulo-based oil contractor is the subject of an investigation into alleged corruption involving contracts with state-run oil producer Petroleo Brasileiro SA that's engulfed Brazil's biggest construction companies.
In Asia, Honghua Group Ltd.'s 7.45 percent 2019 debt has plunged 19.7 percent since Nov. 30, also putting it among the index's biggest losers in December. The Chengdu, Sichuan-based maker of rigs for the oil and gas industry warned last month its 2014 profit will "decrease significantly" due to exchange-rate fluctuations and market volatility.
Haitong International Securities Co. cut its 2014 earnings forecast for Honghua Group by almost half earlier this month, citing ruble-related losses tied to Russian orders.
Worst Performer
Bumi Resources' 10.75 percent 2017 debentures, already in default, have dropped 19.1 percent in December, bringing losses for the year to 62.8 percent. The Jakarta-based miner missed a coupon payment on the $700 million of debt in November and then Dec. 1 filed for Chapter 15 U.S. bankruptcy protection.
Notes of Brazilian sugar producer Grupo Virgolino de Oliveira SA have lost the most this month in the Bank of America Merrill Lynch index, which tracks 108 bonds. Its 11.75 percent 2022 securities have plunged 49.8 percent, bringing declines for the year to 85.4 percent. The company is considering a debt-for-equity swap that could see creditors end up with a majority share, people familiar with the matter said Dec. 12.
The coming 12 months may spell more bad times for emerging market debt, considering the U.S. Federal Reserve is expected to start increasing interest rates from near zero in the third quarter. That would increase the cost of raising new funds.
"Markets are challenged enough," Maglan Capital's Tawil said. "Now they're on edge because of concerns relating to the Fed raising rates in 2015 and the drop in the price of oil."
Before it's here, it's on the Bloomberg Terminal.
LEARN MORE