Croat President, Kitarovic Head to Run-Off Election
Jasmina Kuzmanovic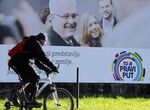 Croatian President Ivo Josipovic failed to win re-election in the first round as NATO official Kolinda Grabar Kitarovic forced a Jan. 11 run-off on a campaign to help the Balkan country emerge from six years of recession.
Josipovic, a Social Democrat, won 38.57 percent after 97 percent of vote counted, the state electoral commission said on its website yesterday. Grabar Kitarovic, running for the main opposition party, the Croatian Democratic Union, took 37.08 percent. Milan Kujundzic, supported by a group of small right-wing parties, and Ivan Sincic, an independent, garnered 6.28 percent and 16.46 percent, respectively.
"Grabar Kitarovic advances to run-off as a favorite, for several reasons," Zarko Puhovski, a political science professor at the University of Zagreb, said by phone. "The Croatian Democratic Union has traditionally been better at mobilizing its voters. She will get all the votes given to Kujundzic, and about half the votes given to Sincic."
The new head of state will have to work with the Social-Democrat-led government to lead the country of 4.2 million people out of its longest recession on record. The central bank forecast growth of 0.2 percent next year.
Croatia, which joined the European Union last year, has lost about 12 percent of gross domestic product since 2008, the last pre-crisis year, according to a World Bank report released earlier this month. Unemployment in the same period has doubled.
The Adriatic nation has, at 50 percent, one of the lowest labor participation rates in the bloc, while its spending for public wages and subsidies is "significantly higher" than in its EU peers, the World Bank said.
The president has the duty to ensure the stability of the government, commands the armed forces and helps oversee foreign policy in cooperation with the prime minister, who holds executive power.
The recession has deteriorated the support of the ruling coalition, led by Prime Minister Zoran Milanovic, also a Social Democrat. In a poll of 1,000 likely voters by independent polling company Ipsos Puls earlier this month, the Social Democrats garnered 18.7 percent support, behind the Croatian Democratic Union with 26.9 percent. The green party or ORaH came third with 16.6 percent.
The next parliamentary elections should take place in late 2015.
"Should Grabar Kitarovic win, the Social Democrats will have essentially lost the 2015 parliamentary election a year ahead of the actual election," Puhovski said.
Polls closed at 7 p.m. The final count is expected later today.
Grabar Kitarovic, a 46-year-old assistant secretary general for the North Atlantic Treaty Organization and a former foreign minister, has called for closer cooperation with the government on economic issues.
Before it's here, it's on the Bloomberg Terminal.
LEARN MORE