Where to Eat in Bologna, Italy: Best Restaurants and Delicious Dishes
By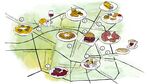 Bologna is a terrific city for dining.

It's so compact, you can walk everywhere. The people are friendly. The prices are low. And the restaurants punch so far above their weight, you feel dizzy. The food? It's delicious.
Here's the pick of the bunch from a visit I made this month on my way to review Osteria Francescana in Modena, ranked No.3 on the World's Best Restaurants list. Needless to say, they're in good company. Click here for full-size map.
All'Osteria Bottega

This low-key Slow Food establishment on a quiet residential street is the most exciting place I ate. It specializes in the local cuisine of the Emilia-Romagna region. The quality of the ingredients is high and the cooking in their service rather than that of the chef's ego. Starters include ravioli filled with duck and duck liver, sauteed in the duck basting juices and black pepper (15 euros). Mains include baby pigeon (braised breast, crunchy thighs and wings) in its own sauce with chicory and pancetta (20 euros). It is epic. The bill: 55 euros. Via Santa Caterina 51, 40123. +39 051 585 111.
Alce Nero Berbere

The owners are promoting a "light" pizza, the product of research into flours, fermentation, toppings, cooking methods, and nutrition. If that sounds earnest, don't worry, this café with a delicatessen is plenty fun, with friendly service and creative flavor combinations. How about pizza with burrata, cooked prosciutto di Mora Romagnola, dried apricots, and fior di latte, at 14 euros ($17.16)? Desserts include hazelnut semifreddo with cocoa sauce. The bill: 34 euros. Via Giuseppe Petroni 9, 40126; +39 051 275 9196. alceneroberbere.it
Il Gelatauro

Gianni Figliomeni, the owner of this cake and ice-cream shop, moved to Bologna from Calabria 16 years ago with his artist wife Angela Lorenz. He makes the cakes and gelato each day in his kitchen at the back. Il Gelatauro is popular with locals as well as tourists. It's unusual for the range of flavors, including pumpkin and cinnamon, and bergamot and jasmine. The cakes (like pistachio) and coffee are good, too. London chef Jacob Kenedy spent time here learning from Figliomeni before he opened Gelupo in Soho. The bill: 5.40 euros. Via San Vitale 98, 40125; +39 051 230 049. gelatauro.com
I Portici

I stayed at I Portici hotel and loved it. The restaurant, which features formal service and elaborate dishes, holds a Michelin star. I am guessing that chef Agostino Iacobucci has his eye on a second. His cooking is certainly ambitious, displaying a range of techniques and experiments with flavor. Whether you might prefer a beautiful oyster served simply rather than with Campari and mango (23 euros) is a matter of taste. Ravioli with 36 months-aged Parmesan cheese comes with a coffee reduction, saffron, and onion sauce. Another winner was a single raviolo filled with Genovese-style rabbit, smoked buffalo provola cheese, and herbs. The bill: 123 euros. Via Dell'Indipendenza 69, 40050; +39 051 421 8562. iporticihotel.com
Osteria da Mario


This tavern traces its history to 1900 and closed for a few years before emerging in its current incarnation. The interior is charmingly cluttered, with mirrors and countless pictures filling the bits of wall that aren't lined with bottles. Lamps hang from the ceiling. You can sit at the counter or at one of the plain wooden tables and enjoy a glass of wine, and they will throw in a plate of focaccia and flatbread, a perfect snack. The bill: 5.50 euros. Via San Felice 137, 40100; +39 051 555 232.
Ristorante Diana

If you don't find this grand restaurant, your hotel concierge will probably send you there. Diana first opened in 1909 and retains an old-fashioned charm. The menu features classic dishes such as tortellini in brodo (12 euros) and semifreddo with warm chocolate. The waiters wear white jackets and the room has a 1970s feel. It's dated and formal, yes, but the courtesy of the service goes a long way and the food is fine. The bill: 70 euros. Via Dell'Indipendenza 24, 40121; +39 051 231 302. ristorante-diana.it
Ristorante Pappagallo

This is another classic restaurant smack in the center of town. The walls are filled with signed photographs of celebrities who have dined here over the years. (Sophia Loren and Alfred Hitchcock are among them.) The cooking is more adventurous than you might expect. Dishes include one called Three Fishes Hamburger with an oyster mayonnaise (24 euros). The bun must still be in the kitchen, but I enjoyed a pretty plate of scallops and prawns. The bill: 105 euros. Piazza della Mercanzia 3, 40125; +39 051 232 807. alpappagallo.it
Swine Bar

The name of this place is supposed to suggest a wine bar with food, rather than an establishment with boars or bores. Something may have been lost in translation. I ordered the Swine Burger (12 euros), which features roast beef, endives, bacon, Cheddar cheese, and tomato. The meat was as pink as Lady Penelope's Rolls-Royce, the roll as crusty as her aristocratic retinue. Time and again in Bologna, the food exceeded my expectations. This bar might have been so bad. It's not. The bill: 19 euros. Via Righi Augusto 24, 40100; +39 051 232 631.
Trattoria da Francesco

There's no menu -- certainly nothing in English -- at this small and plain trattoria, which specializes in Sicilian fish dishes. Chef Francesco Di Natale cooks whatever he has on hand. The starter is a simple fish selection (red mullet, anchovies, sardines) with vegetables, everything perfectly cooked. It is one of the best dishes I tasted in Bologna. Next is a beautiful plate of tuna pasta, followed by a classic pastry, cannolo Siciliano con ricotta. The bill: 57 euros. Via Mascarella 75, 40126; +39 051 246802.
Trattoria Dell'autotreno

This neighborhood restaurant on a small street outside the town center looks so plain, you might think you've got the wrong address. Inside, it's not much better. Let's just say the owners haven't wasted money on designers. But for traditional, unfussy Bologna food, Autotreno is a good bet. It opened in 1953 and the pasta is hand-made by a 90-year-old grandmother. The roast rabbit served with stuffed tomato and a lemon is a treat. As is the tortellini with cheese and walnut. The bill: 28.95 euros. Via della Secchia 3, 40131; +39 051 558 007.

Richard Vines is the chief food critic for Bloomberg. Follow him on Twitter @richardvines.
Before it's here, it's on the Bloomberg Terminal.
LEARN MORE