Ukraine, Pro-Russian Rebels Swap Captives as Peace Talks Stall
Mark Raczkiewycz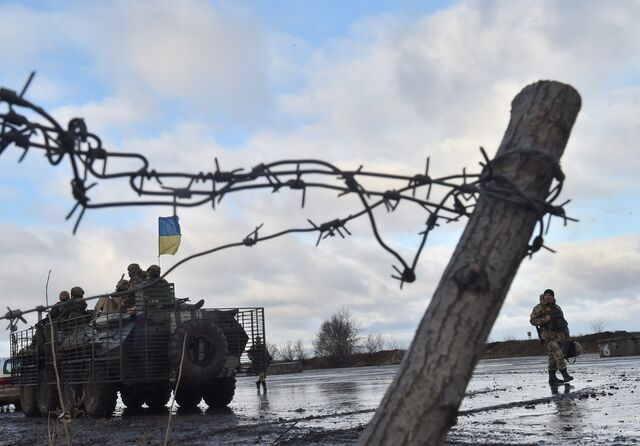 Ukraine and pro-Russian separatists exchanged prisoners in the eastern Donetsk region, as peace talks that resumed two days ago faltered.
Ukraine released 222 captives in the largest exchange since the conflict started, according to the news website of the self-proclaimed Donetsk People's Republic. The rebels freed 146 soldiers, with four more expected tomorrow, Svyatoslav Tsegolko, Ukraine's presidential chief of staff, said on social media.
Envoys from Ukraine, Russia, the Organization for Security and Cooperation in Europe and the separatists met Dec. 24 in Minsk, Belarus, for a planned two rounds of negotiations after a shaky cease-fire was renewed earlier this month. More than 4,700 people have been killed in fighting that started in mid-April in Ukraine's east, according to the United Nations.
The exchange was the only agreement reached at the meeting, rebel negotiator Denis Pushilin told the news website. The prisoners held by Ukraine included Russian officers, Ukraine's State Security adviser Markiyan Lubkivsky told journalists in Kiev before the talks in Minsk.
The envoys were initially planning to today as well as Dec. 24, to discuss the prisoner swap and weapons pullback, according to a statement earlier this week from Ukrainian President Petro Poroshenko's office. Today's talks didn't happen, Interfax said, citing the Belarusian Foreign Ministry.
The initial cease-fire, brokered on Sept. 5 in Minsk, halted large-scale offensives, while marred by skirmishes and sporadic shelling. About 1,350 people were killed from Sept. 5 to Dec. 12, or about 30 percent of the deaths in the conflict, according to the UN. The participants in this week's talks left the meeting venue last at night in Minsk without commenting to reporters.
Military Doctrine
The withdrawal of artillery to create a buffer zone around the rebel-held territory may start after rebels observe a silent regime, or full cease-fire, for 48 hours, Ukrainian military spokesman Oleksiy Mazepa told reporters in Kiev.
Ukraine's parliament this week voted to cancel its neutrality status, installed by ousted President Viktor Yanukovych, allowing it to join military alliances. The move angered Russia, with Foreign Minister Sergei Lavrov calling Ukraine's North Atlantic Treaty Organization aspirations "dangerous" yesterday.
Russia today hardened its military doctrine, identifying a NATO buildup close to its borders as a major threat.
Before it's here, it's on the Bloomberg Terminal.
LEARN MORE