Online Holiday Sales on Pace to Hit Record on Early Deals
Spencer Soper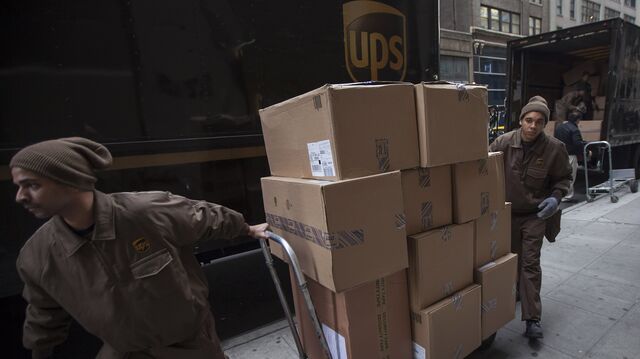 Amazon.com Inc. and other retailers are on pace to sell more products online than ever this holiday season, aided by early promotions and investments in delivery systems that helped avoid the widespread shipping delays of last year.
Web sales rose 14 percent from Nov. 27 to Dec. 21, consulting firm ChannelAdvisor Corp. said in a statement earlier this week. That's roughly in line with ComScore Inc.'s November forecast that online purchases would gain 16 percent to $61 billion during the three months through December. The total may include $7.9 billion in mobile sales, ComScore said.
Amazon.com hired more workers and opened new distribution centers to get goods to customers faster. United Parcel Service Inc. and FedEx Corp. also stepped up hiring, updated technology and spent on infrastructure to absorb the growth. Consumers, aided by lower unemployment and cheaper gas, responded to pre-Thanksgiving promotions instead of splurging at the last minute, something that contributed to last year's delivery delays.
"Shoppers were aware of last year's problems, and the e-commerce companies and shipping companies were prepared," said Jarrett Streebin, chief executive officer of EasyPost, a San Francisco company that helps retailers coordinate labels and tracking with delivery companies. "So far, it looks like everything went really well."
Christmas Shopping
On Christmas Day, consumers went online to buy music, applications and other content for new smartphones and tablets they received as gifts. Online spending increased 8.3 percent yesterday from a year earlier, International Business Machines Corp. said today. That compares with last year's Dec. 25 growth rate of 17 percent.
The slowing growth on Christmas Day follows a broader trend of a longer shopping season with spending less concentrated on any particular day, said Jay Henderson, IBM's strategy program director.
"Consumers are spreading their spending out," he said. "Overall, shopping is going to be strong for the whole period."
Sales from third-party sellers on Amazon.com rose 20 percent from Nov. 27 to Dec. 21, according to ChannelAdvisor. The Seattle-based retailer, the world's largest online merchant, is projected to have fourth-quarter revenue of $29.7 billion, up 16 percent from a year earlier, according to the average of analysts' estimates compiled by Bloomberg.
Prime Customers
More than 10 million new customers this holiday season tried Amazon Prime, the company's $99 annual subscription that offers delivery discounts and video streaming, Amazon announced today. Those enrolled in Amazon Prime spend more on average than other customers.
Retailers did a better job getting orders to customers on time this year, said Kevon Hills, director for research at StellaService, which monitors customer service at e-commerce companies.
StellaService ordered 160 items from 40 retailers to be delivered to different regions of the country. About 7 percent of the packages ordered didn't arrive on time, down from 12 percent last year.
There were fewer warehouse bottlenecks, and retailers communicated better with delivery companies this year, Hills said.
Seasonal Workers
Amazon prepared for the holiday crush this year by hiring 80,000 seasonal workers, up from 70,000 last year. It also operated 15 sorting centers -- up from eight last year -- where packages are organized by ZIP code and trucked to post offices for the final mile of delivery. The new sorting centers helped Amazon reach more customers with Sunday deliveries, spreading orders over a greater number of days.
EBay Inc.'s sales growth from the day after Thanksgiving to Dec. 22 lagged behind the industry at 10 percent, according to ChannelAdvisor. Analysts predict the San Jose, California-based company will report sales for the current quarter of $4.94 billion, up 9.1 percent from a year earlier, according to data compiled by Bloomberg.
"Expectations were very low for EBay," said Scot Wingo, chief executive officer of ChannelAdvisor. "Long-term, EBay has to do something to right the ship."
Sport Chalet
Smaller companies helped fuel the jump in e-commerce this season by investing in technology and embracing the Web to expand their reach.
Sport Chalet Inc., a sporting-goods chain with about 50 stores in California, Nevada, Arizona and Utah, offered exclusive online discounts this year for the first time, said Don Delzell, director of online sales. The retailer realized it could alter online deals on its websites in a matter of hours, while changing promotions at all of its stores can take several days, because of the need to replace signs.
"It gives us the ability to react quickly to changes in the competitive environment," he said.
The closely held company doesn't disclose revenue. Shoppers spent more time on the site and traffic was up as a result of the changes made in August, Delzell said.
Jane.com, a Lehi, Utah-based online clothing-and-accessories retailer, introduced a mobile app in July that helped increase its mobile sales from 5 percent of all transactions to more than 30 percent, CEO Mike McEwan said.
Orders Increase
The company added more clothing to its catalog, which has increased the average order size to about $26 from $15, McEwan said. Getting each shopper to spend more has the company poised to increase revenues by 135 percent in 2014, he said.
"We're selling a lot more clothing than we used to," he said.
Growth in e-commerce will continue to outpace overall expansion in retail in coming years as consumers shift spending from brick-and-mortar stores to websites and mobile apps, according to EMarketer Inc.
Online sales in the U.S. will top $305 billion this year, representing 6.5 percent of all retail sales, the market researcher projects. The U.S. e-commerce market will grow to $494 billion in 2018, representing 8.9 percent of total retail sales, according to EMarketer.
Before it's here, it's on the Bloomberg Terminal.
LEARN MORE