Will Wisconsin's Finances Crush Walker's Presidential Dreams?
Tim Jones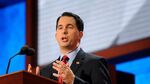 Wisconsin Governor Scott Walker has his eye on the Republican presidential nomination in 2016, and as he tries to boost his national poll numbers, there are numbers at home that also bear watching -- his state's finances.
Tax cuts and Medicaid spending are contributing to a projected budget deficit that may reach $2.2 billion in the two-year period starting in July 2015, according to his administration's analysts. While Walker aides call the projections premature, Democrats say the figures prove the governor's policies -- especially income and property-tax reductions -- turned a $517 million surplus at the end of June into a shortfall.
Tax collections and decisions by Walker and the Republican-controlled legislature will determine the size of the deficit. Yet the swing to a shortfall limits Wisconsin's financial choices as the governor prepares his February budget presentation. Last week, he called for more property-tax cuts.
"What they've opted to do is a policy choice of cutting taxes," said Gabriel Petek, an analyst at Standard & Poor's in San Francisco. "They've changed the fiscal trajectory of the state that had been on course for higher reserves."
Cutting Room
As states and cities recover from the recession that ended in 2009, Wisconsin isn't alone in cutting levies. U.S. states lowered taxes and fees by $2.3 billion this year, the deepest reductions since fiscal 2001, according to a report from the National Association of State Budget Officers.
Revenue declines are also causing fiscal stress in Kansas, where Republican Governor Sam Brownback is moving to close a projected $280 million hole that emerged after income-tax reductions he pushed. Since taking office in 2011, Walker and the Republican-led legislature enacted tax cuts projected to cost more than $2 billion over a 10-year period.
"We have a proven track record of keeping the state's fiscal house in order, and any projected shortfall will be addressed through continued prudent management of agency resources," Laurel Patrick, Walker's press secretary, said in an e-mail.
S&P rates the state AA, the third-highest level, with a stable outlook. Petek wrote in a November report that "recently enacted tax reductions reduce its capacity to absorb weaker-than-expected revenue performance."
Behind Projections
Tax collections for this fiscal year through November were 2.1 percent below the same period last year, according to state figures. The Department of Administration had forecast that collections for the year through June 2015 would be up 5 percent.
Investors in the $3.6 trillion municipal-bond market have yet to penalize the state. Wisconsin's 10-year bonds yield 2.3 percent, or about 0.2 percentage point above benchmark debt, data compiled by Bloomberg show. That difference has shrunk by almost half this year.
Walker, 47, won re-election to a second four-year term last month, bolstering his status among Republicans who applauded his 2011 move to restrict collective bargaining for most public employees. He survived a recall attempt in June 2012 and defeated Democratic businesswoman Mary Burke on Nov. 4.
Potential Candidates
Although Walker has said he intends to serve out his next term, he's on a list of potential 2016 Republican presidential candidates -- all unannounced. The governor met this month with Las Vegas casino magnate Sheldon Adelson, a financial backer of Republican politicians, including Walker.
An average of presidential opinion polls by RealClearPolitics ranked Walker at 8.2 percent, behind former Florida Governor Jeb Bush, at 15.2 percent; U.S. Representative Paul Ryan of Wisconsin, at 10.8 percent; and New Jersey Governor Chris Christie, at 10.4 percent.
One of Walker's primary campaign themes, that he eliminated a $3.6 billion deficit inherited in 2011 from his predecessor, Democratic Governor Jim Doyle, now has the potential to work against him. Estimates of the next budget shortfall range from about $800 million from the nonpartisan Legislative Fiscal Bureau, to the $2.2 billion forecast from Walker's own analysts.
In December 2013, Walker floated the idea of eliminating the income tax, a goal of Brownback's. That hasn't been resurrected.
'Big Pickle'
"We're in a big pickle right now," said Democratic state Representative Peter Barca. "Regardless of how you slice it or dice it, obviously there is a huge deficit going into the next fiscal year at a time of relative prosperity."
The fiscal volatility is familiar to Todd Berry, president of the Wisconsin Taxpayers Alliance, a nonpartisan research group that examines taxes and government spending.
"Wisconsin is politically incapable, with a fulltime, professional and highly partisan legislature, to do anything that looks at finances over the long-term," Berry said.
"It doesn't matter which party's in control," he said. "They're too busy positioning themselves for short-term partisan advantage. We lurch from problem to problem."
Wisconsin ranked 24th among states in job growth during Walker's first term, with a gain of 5.7 percent from December 2010 through last month, according to Bloomberg data.
The unemployment rate dropped to 5.2 percent in November, from 7.7 percent when Walker took office in January 2011. The national average was 5.8 percent last month.
Medicaid spending is adding to budget pressures. The health-care program for the poor, covering about one in five Wisconsin residents, represents about $760 million in proposed new spending in the 2016-2017 spending plan, Berry said.
Total expenditures this fiscal year are expected to exceed revenue by about $650 million, according to Walker's budget analysts.
"The problem is they've cut revenue permanently, with tax cuts, but not cut spending permanently," Berry said.