The Weaker Yen Fails to Lift All Boats
Small companies are still waiting for consumers to spend
By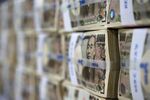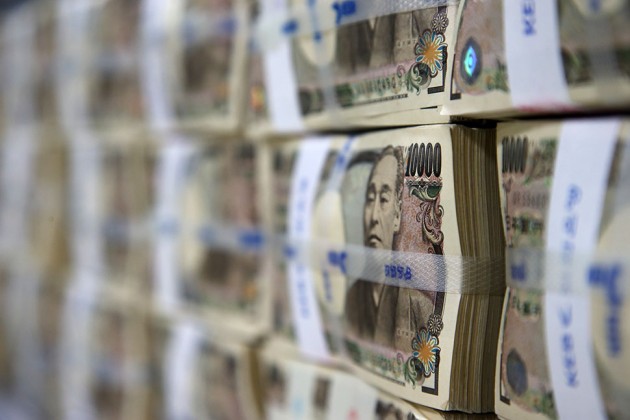 Japanese Prime Minister Shinzo Abe sees his victory in the December elections as an endorsement of his economic policies, especially his drive to weaken the yen to help exports. The weaker yen is already helping the nation's biggest companies get richer; it will also fuel a rise in bankruptcies among smaller ones.
Toyota Motor and Honda Motor are expected to post record profits in 2014 as the weaker yen boosted earnings from overseas. The aggregate net income at 196 of Japan's largest listed companies will reach a record 18 trillion yen ($149 billion) this fiscal year, based on analyst estimates compiled by Bloomberg.
At the same time, the number of Japanese companies citing the weaker yen among the reasons for going bankrupt almost tripled in 2014 to 301 as fast-rising costs of imported food, metals, and construction materials squeezed small businesses, according to Teikoku Databank. Japan may see a continued rise in such bankruptcies, especially of small companies outside large cities, the research company says.
Small and midsize businesses account for about 32 million jobs in Japan, more than double the 14 million generated by big companies, according to a 2014 report by the Ministry of Economy, Trade and Industry. "There's a huge gap between the big exporting companies and smaller companies," says Takeshi Minami, chief economist at Norinchukin Research Institute. "Abenomics is designed to create a strong economic structure in which the strong survive and the weak go away."
Many smaller companies have placed their bets on a revived Japan. When Abe took office in 2012, Uchida, which supplies molds to automakers, moved to meet an anticipated jump in domestic demand by building a factory. Two years later the company still isn't profitable. Abenomics may yet put it out of business, says Takumi Tanaka, Uchida's senior managing officer. The yen's 28 percent plunge vs. the dollar under Abe has pushed up costs for the materials that Uchida imports, while a sales tax increase and a 16-month decline in inflation-adjusted wages have stymied domestic demand for Uchida's car company customers, including Honda. The economy is in its fourth recession since 2008, even as the weaker yen has spurred a record stock rally. "We expected that Abenomics would help both big companies and smaller suppliers, so we invested 800 million yen to build a new factory," Tanaka says. "We dug a deep pit of risk, and now we keep waiting in the hole for the economy to get better."
A week before Christmas, Abe sought commitments from the big companies to spread the wealth generated by the weaker yen and boost wages at home. Data from the Bank of Japan show Japan's companies are hoarding record amounts of cash and investing heavily overseas. "I want companies with high profits that are benefiting from the weak yen to raise wages and investment, and on top of that, consider the prices they pay their suppliers," Abe said at a meeting of business and labor leaders on Dec. 16. The administration will budget about 3.5 trillion yen on measures to rekindle growth.
The package can't come soon enough for the auto parts and materials suppliers in Tokyo's Ota Ward, which have seen their fortunes go from bad to worse under Abenomics. Ota Ward had 4,362 factories in 2008. By 2010 that number had dwindled to 1,748, according to figures compiled by the local government.
The shifting exchange rates from postwar highs to a recent seven-year low added to the problems of the ward's manufacturers, according to Toshiaki Funakubo, chairman of the Ota Ward Industrial Association. With the yen appreciating for much of the past decade, companies from the ward switched their supplier network to China and other parts of Asia, says Funakubo.
As a result, the tight link between added exports and a lower yen no longer holds. Takagi, a toolmaker that's been in business since 1866, is stuck paying higher wages in China with a much weaker yen. "Even with the yen at 120 to 130 to the dollar, jobs are not going to come back from China in the next couple of years," says Kazuo Takahashi, chairman of Takagi. "Prices will just go up, and life will get harder." Funakubo is even gloomier. "I still believe Abenomics has a chance, though I feel the moves are way too slow," he says. "We'll all go bankrupt waiting."
BOTTOM LINE -
The bottom line: The number of Japanese companies citing the weaker yen as a reason for going bust has almost tripled this year.
Before it's here, it's on the Bloomberg Terminal.
LEARN MORE