Samaras's Call Fails to Lure MPs to Back Nominee, Avert Election
Eleni Chrepa and Antonis Galanopoulos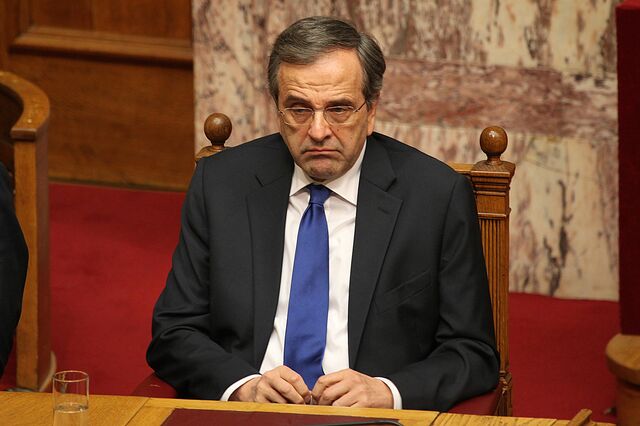 Greek Prime Minister Antonis Samaras failed in his second effort to get lawmakers to back his nominee for president and avert snap general elections.
With voting ongoing in Athens, more than 100 lawmakers in the country's 300-seat chamber withheld support for Samaras's candidate Stavros Dimas, leaving him short of the required 200 ballots.
If Samaras fails in the third and final vote on Dec. 29, parliament will be dissolved, prompting the calling of early elections. Samaras, who didn't manage to garner enough support in the first vote on Dec. 17, called on Greek lawmakers on Dec. 21 to join him in the effort to avert early elections, saying Greece "must end political uncertainty."
He offered to form a government composed of a wider coalition after a president is elected, and to hold elections at the end of next year. All opposition parties promptly rejected his proposal.
The prospect of early parliamentary elections has roiled financial markets in Greece, evoking memories of the height of the financial crisis in 2012 when the country's euro membership was in jeopardy. Polls show anti-austerity opposition party Syriza ahead of Samaras's New Democracy.
Before it's here, it's on the Bloomberg Terminal.
LEARN MORE